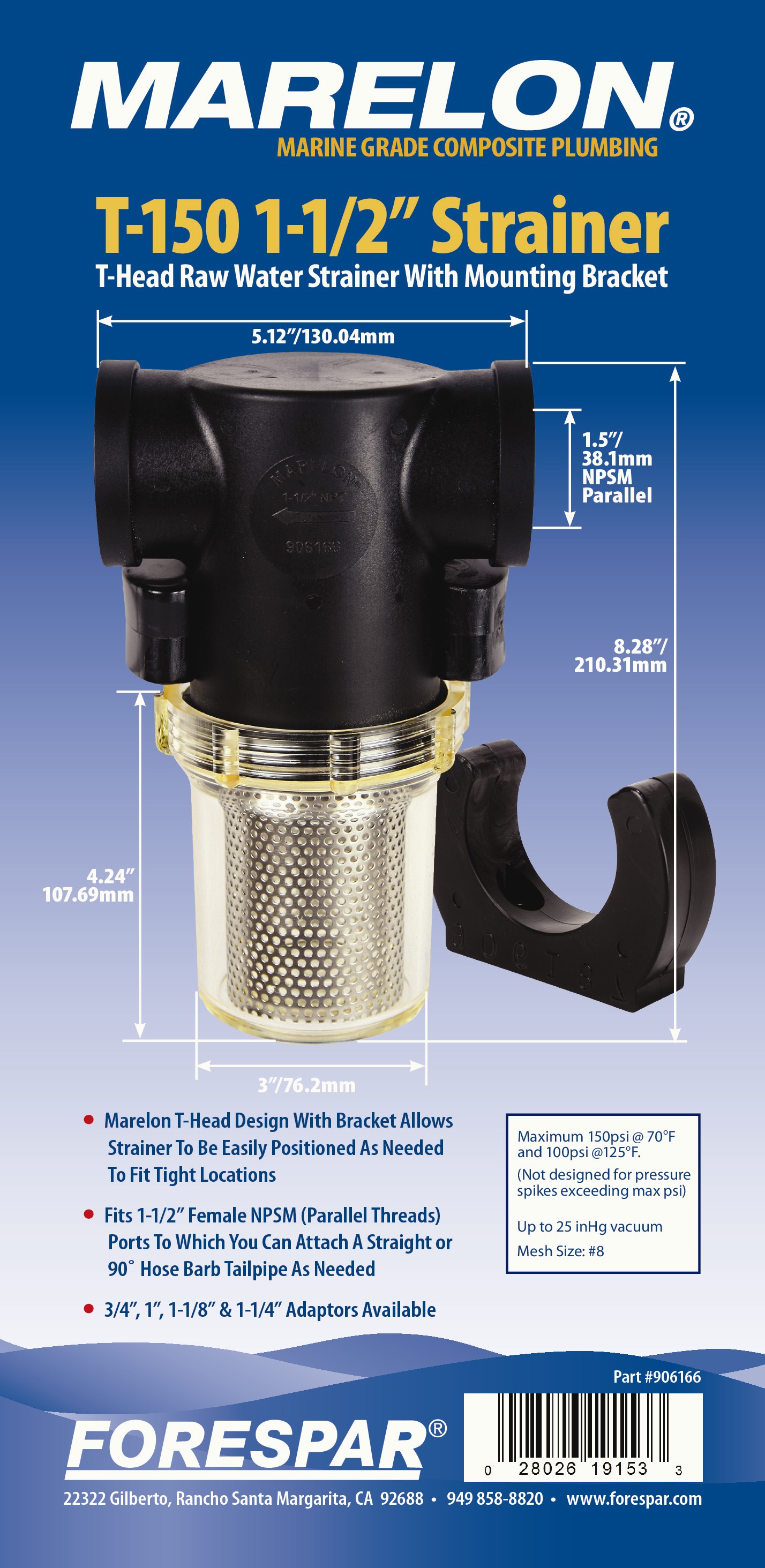 The 150 raw water strainers have 1-1/2" female NPSM (parallel threads) ports to which you can attach a straight or 900 hose barb tailpipe as needed. Marelon reducers are available to go from 1-1/2" hose to ¾" hose if needed. See adaptors size list below. Maximum 150psi @ 700F and 100psi @1250F. Not designed for pressure spikes exceeding maximum psi. Up to 25 inHg vacuum.
The included mounting bracket requires two (2) ¼" fasteners (not included) to firmly mount to a bulk head or stringer and allows the "T" head to be rotated as needed. A flat washer under the fastener heads is recommended.
A seacock is required on the intake thru-hull in the hull and it is advisable to have an inline valve on the back side (outlet) as well so the unit can be completely isolated for basket removal and cleaning without having backflow spillage into your bilge. The "T" head should be above the waterline.
Click here to View Marelon Tailpipes
Click Here to View Marelon Elbows
The MF850 water strainer is made of Marelon® (same material as our valves). It features a new universal mounting bracket and clear polycarbonate lid for ready inspection. The stainless steel strainer basket can be easily removed for cleaning. Intake and exit ports are 1-1/2" (38.10mm) ANP threads standard. Reducers for 3/4" (19.05mm) I.D. hose are available seperately. Diameter: 6.3" (160.02mm) Height: 6.1" (154.94mm) . The flow rate is 40 GPM (151.41l/m) with 1-1/2" (38.10mm) ports. (See reducers and adapters shown lower on this page)
The new mounting bracket allows the strainer exit port to be positioned in the proper direction by simply loosing the bracket clamp and rotating the entire housing. This will allow the OEM or aftermarket customer greater flexibility in installation.