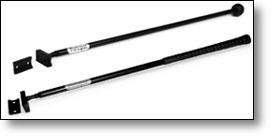 THE BALL END & GOLF GRIP SWIVEL STICK
Forespar's® economical fixed length tiller extension is now a even better value. The quick and easy removable Speed Lock (SL) holds the the rugged 5/8" dia. black anodized aluminum Stick to your tiller. You can choose between the rubber Ball End or Golf Grip style handle. Perfect for precise tiller steering for smaller boats ranging from your Opti or Sabot up to 22' trailer-sailors.
Available in four of the most popular lengths: 18", 24", 30" and 36".
Tube diameters 5/8"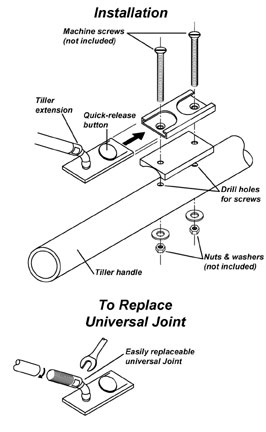 UNIVERSAL-LOCK UNIVERSAL END (SL)
Forespar® has taken "universal" tiller end fittings to the next level. Our unique "Speed-Lock" end allows for a full 360° of rotation (twist) without binding or failure. It is quickly and easily removed from the tiller by simply depressing the "button" in the base plate and sliding the end out. The base plate is a non-corroding polymer engineered for maximum longevity, and the universal can be easily unscrewed from the tiller handle and replaced with simple hand tools, if replacement ever becomes necessary.