171
202018
OP 120 Crew Overboard Pole
$296.95
OVERBOARD POLES ˝ OP-120/150
Forespar® Man Overboard Poles are approved by both I.Y.R.U. and Transpac Y.C. for offshore racing. These poles are constructed of the finest materials and reflect modern design and quality workmanship. The strong fiberglass shafts feature a highly visible yellow coating. The red and yellow flags are made of long lasting Dacron with a batten sewn in place to hold the flag in an open position. Now includes reflective tape to aid in night location.
Forespar® offers a special bright orange float which is made of a high impact, polyethylene jacket filled with closed-cell polyurethane foam. The float is slotted on the OP 120/150 model so it easily fits close to the backstay of life lines.
All poles are two-piece and feature a unique top shaft that can be custom sized by the user resulting in a overall pole length ranging from 11.5 to 15 ft. An epoxy kit is provided with each unit and no cutting is necessary. Simply telescope the top shaft to length desired and epoxy in place. A non-corrosive joining sleeve is standard to allow disassembly of the top shaft from the float for easy storage. The flag is included with Overboard Poles.
WARRANTY RETURNS BASED ON UV EXPOSURE LIMITED TO 12 MONTHS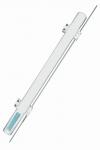 SKU: 202013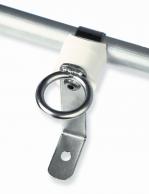 SKU: 156003


SKU: 205102

172
202019
OPST 120 Crew Overboard Pole
$275.95
STERN TUBE OVERBOARD POLES
Functionally the same as model OP-120 overboard pole, the OPST is designed for boats with stern tubes. Outside diameter of float is 3.25". Constructed from the same fine materials as our 'standard' poles.
WARRANTY RETURNS BASED ON UV EXPOSURE LIMITED TO 12 MONTHS