YACHT ROD AND FITTINGS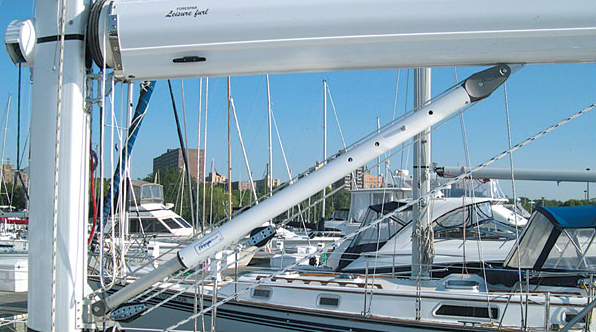 The High Performance Spring-Loaded Mechanical Boom Vang
Precision design in three sizes. Excellent vang for mainsail control, coupled with strength for boom support - perfect for performance cruising and for racing. Constructed of powerful white powder coated aluminum & polished stainless steel. the Yacht Rod™ comes with spectra cable ready to add to your tackle system, increasing the purchase of your standard 4:1 up to 8:1 when installed on Yacht Rod ™. And, you can lead to spectra to a small winch for additional power. Inside, a powerful spring return holds the boom. Brackets for mast and boom are sold separately, but most sailors acquire the package (see below). Mast and boom fittings are also listed below.
Caution: Either the existing topping lift or the main halyard shackle should be snapped to the outboard boom end when in port, to prevent damage to the Yacht Rod™.
FOR RACING AND CRUISING
Eliminates the need for the topping lift to be set in general sailing conditions*
Supports the boom in light air and when reefing and lowering the mainsail
Faster than hydraulics – No messy fluid leaks
More efficient than conventional tackles
Tubing is white coated anodized 6061-T6 aluminum and electropolished 316 stainless steel
Precision machined 6061-T6 aluminum clevis ends, sheaves and Nylatron® bearings
Precipitation hardened stainless steel spring with fast-pin adjustment – rated for over 1 million compressions
No gas spring to lose its charge
Note of Caution: Furling booms weigh as much as 3 times as much as standard booms. Standard vang spring will not support their weight. In rough weather and sea conditions it is prudent to set a topping lift in case of a gooseneck failure or other boom equipment failure.
Forespar® offers and supports three sizes of spring loaded boom vangs for boats starting around 30 feet and up to about 55 feet.
YACHT ROD PACKAGES Forespar® also offers three sizes of complete Yacht Rod boom vang packages sized to fit your boat.