YACHT ROD AND FITTINGS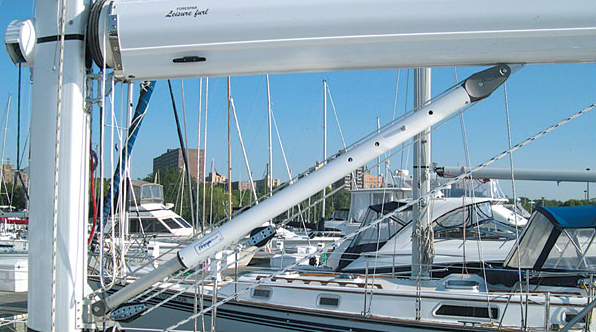 The High Performance Spring-Loaded Mechanical Boom Vang
Precision design in three sizes. Excellent vang/boom support for performance cruising and racing. White powder coated aluminum & polished stainless steel. Supplied with spectra cable ready to add to your tackle system. Your 4:1 equals 8:1 when installed on Yacht Rod ™. Can be led to small winch for additional power. Spring return holds boom. Brackets for mast and boom sold separately. Mast and boom fittings are listed below.
Caution: Over sheeting or leaning heavily on aft end of boom can bend the boom or the Yacht Rod™. The main halyard shackle should be snapped to the outboard boom end, in port, to prevent damage to the Yacht Rod™.
FOR RACING AND CRUISING
Eliminates the need for the topping lift to be set in general sailing conditions*
Supports boom in light air and when reefing and lowering the mainsail
Faster than hydraulics – No messy hydraulics to leak
More efficient than conventional tackles
Tubing is white coated anodized 6061-T6 aluminum and electropolished 316 stainless steel
Precision machined 6061-T6 aluminum clevis ends, sheaves and Nylatron® bearings
Precipitation hardened stainless steel spring with fast-pin adjustment – rated for over 1 million compressions
No gas spring to lose its charge
Note of Caution: Furling booms weigh as much as 3 times as much as standard booms. Standard vang spring will not support their weight. In rough weather and sea conditions it is prudent to set a topping lift in case of a gooseneck failure or other boom equipment failure.
Forespar® makes three sizes of spring loaded boom vangs for boats starting around 30 feet and up to about 55 feet.
YACHT ROD PACKAGES Forespar® also offers three sizes of complete Yacht Rod boom vang packages sized to fit your boat.