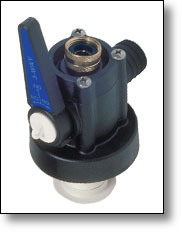 ENGINE FLUSH OUT
Engines running in salt or brackish water need to be flushed with fresh water after use to prevent costly corrosion during Winter or off-season storage. Forespar® has designed a single valve system that makes this maintenance prodedure simple.
This Seacock/Y Valve configuration includes a brass garden hose connection to facilitate regular fresh water engine flushing valve includes thru-hull that must be used. A quick and easy way to flush inboard engine systems...an often difficult maintenence task.
*See the Tech Tips tab for important information regarding tapered threads.