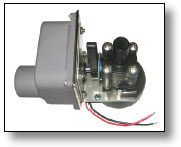 SMART VALVE ROV™
FORESPAR® HAS TAKEN SEACOCK CONTROL TO A NEW LEVEL
With the success of the Smart Valve™, the logical step was to make valves remote controlled. Forespar® can now offer the Smart Valve ROV™ (Remote Operated Valves) to boat builders wishing to offer their customers the added convenience of operating their seacocks from the helm (or where ever you wish to mount the control panel) all without the need to go below, get on your knees and reach into the bilge to open or close the VALVE(S).
Powerful sealed motors open and close the valve(s) with the push of a button. Any valve suitable for Smart Valve™ sensors can be made (at the factory) to be remote. Four wires (two for the sensors, two for the motor) are lead to the Smart Valve ROV™ panel that is custom engraved and has the red and green LED indicator lights. As with the Smart Valve™, power is supplied directly to the control panel only. ROV panels come in 4 and 8 valve configurations only.
Forespar® can also supply Smart Valve ROV™ Systems that can be used with the new, state-of-the-art power distribution and systems integration "CAN-BUS" type systems.
Please use Smart Valve ROV™ order form for ordering instructions and to note valve names for engraved panel.