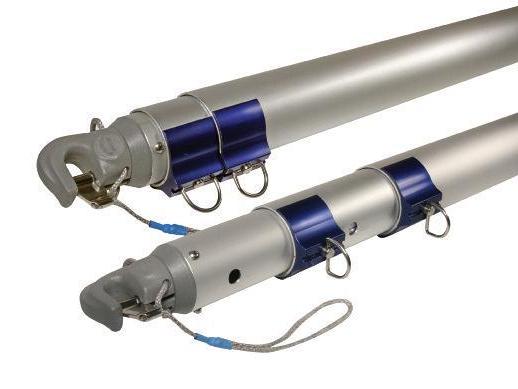 The new Forespar Tri-Reacher Whisker Pole has been developed specifically for use with asymmetrical nylon sails. Use of a whisker pole with these sails will allow deeper sailing angles and eliminate the need for constant jibing downwind.
On long downwind legs, the additional rigging of fore and after guys (attached to the outboard end) will further stabilize the pole. This will also allow emergency furling of the headsail without the need to go forward and deal with the pole first. This helps greatly when sailing at night or short-handed.
The inboard ends are Forespar's time proven "UTS" style socket end or "UXP" piston style. The outboard end is our "UXP" style. The "UTS" end will only fit the Forespar toggle/knuckle pin assemblies (#333004). The "UXP" style fits #331000 RC-125 Ring Car or FC-125 (#332002) mast cars and #332025 fixed mast mounts.
The toggle/knuckle pin assemblies can be used on other brands of mast cars such as Harken, Selden, Isomat and others. They require a ½" hinge pin or bolt and 1" space between flanges/tabs.
For use on boats 31 to 40 feet in length:
Stows at just 8 feet 8 inches
Telescopes to 20 feet 8 inches
Weighs just 19 pounds
Ships in the USA by UPS anywhere in the 48 States, for just $69