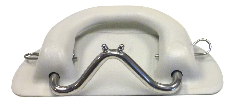 THIS PRODUCT IS DISCONTINUED. Contact Forespar for more options.
Forespar QUIK Davit™ Replacement Pads & Yokes allows you to attach a new inflatable to existing davit heads on your swim platform. These are rubber pads that are glued onto the inflatable dinghy and stainless steel yokes that are attached to the pads. The yoke is the part that also snaps into the davit head on your swim platform.

- Convenient integrated handles in the mounting pads help entering, exiting, and maneuvering.
- Recessed attachment pins for increased safety and comfort.
- Softened design helps prevent damage to your boat hull from scraping.

Solid stainless construction for many seasons of trouble free use. No loose parts to drop in the water. Fully compatible with Weaver mounting kits & Weaver davit heads (A QUIK Davit™ yoke by itself will not fit a Weaver pad. The yoke needs to be used with the QUIK Davit™ pad)

Color: gray. Sold as a pair of pads with yokes. ADHESIVE SOLD SEPARATELY. Please see our related products.
It is very important that you allow sufficient time and strictly follow all installation instruction steps to properly install the dinghy pads. Otherwise, we recommend taking them to a professional installer.

For full installation instructions, click here.