Saw this in latts and atts last month and since I'm not supposed to lift anything to heavy anymore, though we would give it a try, since lifting our dinghy motor on and off is one of the more awkward weight issues in our sailing adventures. It took awhile to figure out where best to put it but then within five minutes [sic] it was installed. Went out for a little weekender and I got to tell you. Its worth every penny. When hoisting the engine back up my plan was for me to be in the dighy and have my wife start it going, then I would haul butt to the cockpit [sic] and finish it. By the time I got up the ladder my 125 pound lady had already hoisted the engine and was securing it to the rail. How cool! The great thing is that it works with your sailing winch and the main hoist comes off and goes below for storage so you don't look like you turned your boat into a working barge. They said it takes 20 seconds to put it back together and they weren't kidding. One of the best buys for sure. Can't wait to get to the Bahamas and try it with cases of Rum!
S/V Imagine, Endeavour 37
Merritt Island Florida
Just a note to let you know that we have received the Nova LIft Crane and that we are extremely pleased with it. It has been installed and is functioning beautifully. So much better looking...simple and elegant...than any of the alternative solutions.
Well done! Thanks.
Andrew Buttjes, President
Mountain Technologies Limited
35 Gostick Place North Vancouver BC Canada V7M 3N2
As a liveabroad, (mostly on the mooring or anchor) we don't always get the best anchorages and on weekends, unexpected powerboat wakes can cause some uncomfortable rolling. We hoped the Roll-X might stop this rolling becuase we had heard good things about it from west voast friends, where it is more popular. It is a clever design, easily rigged and stowed. The basic idea has been used by draggers for a long time and I only wished someone had built the product sooner. I have spent too many nights rolling when the wind changes and a swell enters the anchorage or when an inconsiderate boater throws a big enought wake to spill all the drinks and send us flying. As long as I take 5 minutes to rig the Roll-X those days are over.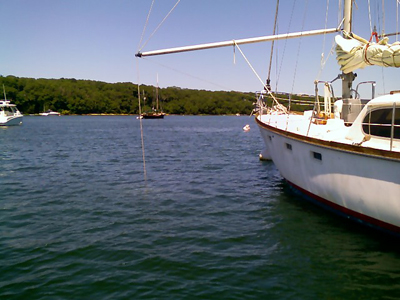 Tood Follansbee, Lead User Experience Architect
Web Marketing Resources LLC
West Tisbury, MA / Norwalk, CT