Category Archives: Uncategorized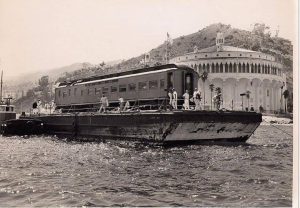 A bit of yachting history
In 1963, a group of Southern California yachtsmen decided that a train ride to Avalon was in order.  They did exactly (sort of) that as you can see from the photo of the Pullman car at the Casino in Avalon.
The car was acquired by a regional railroad magnate; McFadden, of the family who were the original operators of Newport Beach. The car was loaded onto a barge in Long Beach and towed/pushed by tugs to the island.
The only comment by the co-skippers was that the 26-mile railroad bed was somewhat soggy and ride was a bit uneven.
Milwaukee Community Sailing Center Receives Over $7000 To Foster Youth Sailing & Renames Annual Lobster Boil Fundraiser In His Honor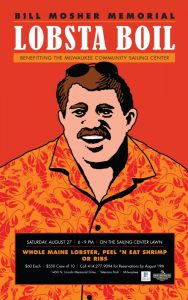 Forespar Products and the Milwaukee Community Sailing Center combined to raise a total of $7215 in funds to honor long time industry professional and Forespar representative William (Bill) Mosher. These contributions reflect individual donations from Forespar employees and Milwaukee Community Sailing Center members, as well as a matching donation from Forespar based on the received amount. Additionally, the Milwaukee Community Sailing Center announced that it will rename their annual lobster boil fundraiser in Bill's honor.
Hired as the original Executive Director of the Milwaukee Community Sailing Center in 1979, Bill was a strong force in establishing and driving the organization forward throughout the years. When he unexpectedly passed away in July 2015, Forespar offered to donate matching funds for donations made to the MCSC in Bill's name.  One year later the campaign's funds have been realized and over $7000 of total donations will be used to help fund a successful STEM (Science, Technology, Engineering & Math) youth sailing program and a portion of a needed "new" safety boat.
The Milwaukee Community Sailing Center has also decided to rename its popular annual lobster boil fundraiser in Bill's honor.  Now known as the Bill Mosher Memorial Lobsta Boil, the event will be held on the MCSC grounds, August 27th. A memorial "rock" and plaque will also be dedicated to Bill's lifelong efforts during the event.
Forespar® is one of the oldest, most established boat hardware manufacturers in the United States. They are the number one manufacturer of downwind sailing poles and their diverse line of marine products includes Leisure Furl™ boom furling systems, Marelon® plumbing fittings and numerous other marine related products.
The Milwaukee Community Sailing Center is a private, not-for-profit 501 (c) 3 agency located just north of downtown in the heart of Veterans Park at McKinley Marina. MCSC provides educational and recreational sailing programs to those who wish to gain access to Lake Michigan and learn to sail; regardless of age, physical ability or financial concerns.
For more information visit www.sailingcenter.org or email kenq@broadreachmarketing.net
Home
|
Uncategorized
|
Olympics: A sailing surprise as the water and conditions are ideal on Guanabara Bay
RIO DE JANEIRO – Sailing, not the dirty water, was finally the focus on troubled Guanabara Bay during a spectacular start to the Olympic regatta.
Windsurfers sped across the waves toward Flamengo Beach in a fresh breeze, against the imposing backdrop of Sugarloaf Mountain. Christ the Redeemer, Rio's highest and most magnificent landmark, was obscured by fog.
Across the bay, 43-year-old Robert Scheidt won the second race in the Laser class after finishing a disappointing 23rd in the opener. He's trying to become the first Olympic sailor and first Brazilian to win six Olympic medals. He owns two golds, two silvers and a bronze. He's seventh overall.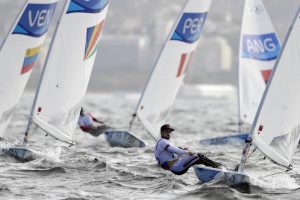 Charlie Buckingham of Newport Beach, making his Olympic debut in the Laser class, said the water "was great. No trash. It was warm. Splashes felt good."
Buckingham finished 20th and seventh in the two races Monday, with eight races to go before the medal race.
Guanabara Bay seemed to pass the sniff test, at least on the surface.
The courses appeared clear of trash. Organizers have sent a helicopter over the bay every morning searching for rubbish. If any is spotted, boats are sent to scoop it up. Barriers have been put across rivers to try to stem the flow of garbage into the bay.
Under the waves, things are different.
An independent study by The Associated Press has shown high levels of viruses and sometimes bacteria from human sewage in the water.
"We're not really concerned about that," Pascual said. "We've been here for a while training and we've hadn't had an issue. I'm just focused on racing. There's been days when it rains you can see stuff floating around, but it's like everywhere else I guess. It's a bay."
American Paige Railey, who finished second in the second Laser Radial race and is seventh overall, said the water was "great, totally fine. Warm, clean. We were happy. I really want to give hats off to Brazil. I came here in 2007 for the Pan Ams and they've done a magnificent job of cleaning up the water and there are really no problems. I'd jump off the boat and go swimming if I could."
"This is like perfect conditions. You can't get better than this. And the views are amazing," said American windsurfer Pedro Pascual of Miami.
Conditions could change if it rains.
"There always have been problems here, Spanish windsurfer Ivan Pastor said. "It's a very large bay. There is a lot of current, rivers flowing into it and we've seen quite frequently a lot of trash floating; plastic, which is the worst."
Pastor said he's not afraid of swallowing the water.
"I've been here a lot and fallen and it hasn't been with my mouth closed," he said. "Knock wood. Nothing has happened. It looks very clean today. There have been other years here when it was really dirty."
Croatia's Tonci Stipanovic led the Laser class while China's Lijia Xu led the Laser Radial. Nick Dempsey of Great Britain and Charline Picon lead the windsurfer classes.
After the 100-foot Comanche crushed the Newport Bermuda Race record by almost five hours, finishing June 19, it has taken the next boat over two more days to reach Bermuda. While Comanche's finish position was predicted, few could say the same about the runner-up.
High Noon, at 41 feet, is fully 59 feet shorter than Comanche and tens of feet shorter than many other of the 142 starters. Yet High Noon was the second boat to finish , and did so with a 10-person crew, seven of which are teenagers between ages 15 and 18.
This is all about old/new ideas in training young sailors. For decades they sailed only small boats. Enter Peter Becker, who sails out of American Yacht Cub, in Rye, New York. He was an eager 15-year-old when he sailed his first Newport Bermuda Race. "I was the kid on the boat, up on the bow changing sails," he recalls. Since then he's done 16 more Bermuda Races and a race from New York to Barcelona, Spain.
Four years ago his teenage children were getting interested in ocean racing, and he came up with a new approach: a unique training program at his club that came to be called the Young American Junior Big Boat Sailing Team.
He put youngsters in a J/105 racing in local regattas under the his tutelage and that of other big-boat sailors.
From there the youth sailors crewed on short, then longer ocean races, even delivering boats home after the races.  It worked so well that for the 2016 Newport Bermuda Race, the US Merchant Marine Academy Sailing Foundation loaned High Noon to his program.
The results are apparent.  You need crew?  Draft juniors.  They're often as good or better than you are – and a whole lot more agile.
It's about time.
US Sailing and others are pushing to get kids and young people out on the water sailing.  Not necessarily racing, but sailing.
My suggestions may be facile, but:  (a) Start them early, and (b) Keep them involved in the process when they're out there – no passengers.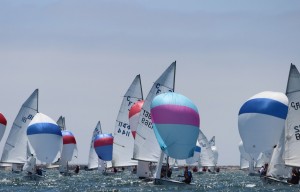 Our primary YC offers one of the finer Juniors' programs on the West Coast.  While we have some superb racers in the Junior ranks, many race in the Harbor for the competitive fun of it, many sail just for the fun.  We start Juniors in the "Starfish" program at about age five, when we can.  They're more at summer camp than on the water, but they are exposed to fun part of boating, with a dose of responsibility. that can then graduate to on the water, first sailing with coaches, then Sabots (racing if they want to), then Optis, then Lidos for fun, or 420's to race, etc.
And, while we're at it, there are a number of racing skippers who make sure that competent (meaning safe)  juniors, mostly adolescents, crew on their boats for local PHRF races, and even on some of the distances races – again, no passengers.  One skipper sailed the Newport-Ensenada race with eight kids and four adults, finishing fifth in a class of 15. All the juniors on that crew are sailing.  Five are still racing , three on a national level, and three sail for fun.
The end result has been sailors who started in the Club at five, with about half of a twenty-year program philosophy still sailing (and that doesn't count the power boaters).  That means BCYC Junior sailing program has produced about 200 sailors still on the water, and more than that overall in recreational boaters.
That also means a pretty good crew pool for those of us who race a lot.
Make it fun, and they will come.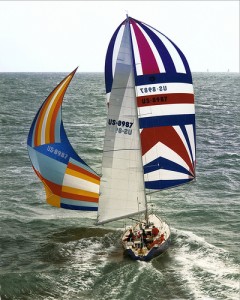 Ocean racing is just about to become more colorful – again!
The new ORR rules are allowing bloopers on non-sprit boats (with some restrictions).  For sailors who don't remember, look at the picture, and check out the big sail tacked to the port bow.
Look at the wake, and the waves, and realize just how deep and fast they're sailing.  Pole back a bit, ease the main a bit, and trim on the the blooper and that boat is still launched – even dead down wind.  In light and moderate air, you've got a big downwind sail you trim with the halyard.  You'll want a racing crew with someone who either has or can develop a different set of trimming skill, but you'll make up for it with VMG and boat speed.  That blooper helps narrow the gap between an older boat and the sprit boats.
We'll see them this year on the ocean races such as Bermuda, Transpac and Mackinac.
The ORR rule limits blooper use by treating the blooper as headsail (no pole), and within the number of sails the boat is allowed to carry.  It has to be attached to the bow, and there are restraints on the boats allowed to fly them, as in basic design from before 1986.  And couple of cautions:  Think oscillations.  Think about a little too much breeze and an interesting round up or crash jibe.
On the other hand, think speed.
Mike Dwight
Not everyone shares your taste in music. Or sports. Or boats. Or recreation. Or wakes. Or engine noise. Or even beverages. Even if they do, they probably don't want to share right now.
It's easy to get totally focused on what you're doing, even in a shared environment. Let's face it: when you're cranking along at 25 knots, your attention is on making sure you don't hit anything solid, and the exhilaration of speed on the water. You're not looking back at your wake, and seeing how much the swimmers, paddle boarders and kayakers appreciate it. Or how much the waterfront folks enjoy watching their watercraft bang on the dock. And the people out for a quiet day fishing really want to compliment you on your speakers and how loud your motors are.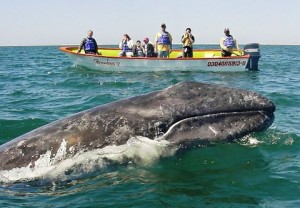 They're just as happy as you are when you've just nestled in to bed after a long day on the water, and someone drops anchor next to you, invites friends, fires up the generator, plugs in the blender and the music, and parties down until the crack of dawn.
The long and the short of it is that you ARE in a SHARED environment.
Even the gray whales in Bahia Todos Santos shy away from noisy boaters, and bass in the lakes don't really flock to rock and roll.
Respect the rights of others. Show some consideration for the people around you.When you're at the launch ramp or the dock, be quick and make room for the next boat.  Respect the private property along the shore. Make sure you have permission to go ashore, use the dock, or cross their land.  And so on….
Remember, the other folks in or on the water have the same rights you do. And, just like you, all they want is a good day on the ocean, lake or river.
~ Mike Dwight
When was the last time you inspected your chainplates? Shrouds and tangs, of course, because they're easy to see, but the chainplates themselves.  If you take the time, and carefully inspect all parts of the rig, you can prevent failures – and losing the rig is at best a bad thing.
Many boat owners, especially those with newer boats, aren't real sure what a chainplate is, or how essential to the rig they are. Since they provide the foundation of the rig at the base of the shrouds and stays, they're often masked behind surfaces and seat backs.
They can be hidden or right out in view, as in these pictures from Ericson Yachts
Regardless, they bear huge loads, and are a common point of failure.  Remember, stainless is not permanent, and is subject to metal fatigue and corrosion, especially after about ten years. At that point, it becomes a very good idea to inspect the chainplates, fore and aft, side to side, when you're planning a cruise, and especially if you sail in heavy air or seas. We've all "replaced" our standing rigging without a thought to the chainplates.
Look at the photo above. When this happens, your rig gets very unhappy, and so will you.  Get down below and take a good hard look at those plates and straps.  Or better yet, ask your rigger or a surveyor for an inspection.  The worst thing that can happen is nothing, and that's good.
Mike Dwight
It sounds a lot more complicated than it is. All you need is:
• your usual genoa
• a second headsail
• a mast with two foresail halyards
• a whisker pole
Your destination is deep off the wind. The breeze is light to moderate, and you'd like to be moving faster, but either don't have a spinnaker aboard, or just don't want to wrestle with it. Wing-and-wing isn't working because your course isn't dead down wind, or you just don't want to deal with the constant trimming.  The usual solution is to come up on the wind, heat it up and get some boat speed, gybing your way to your mark. It's more work, but it can get you there faster if you plan your gybes well.
Or go with two headsails.
Get the other sail on deck (it doesn't matter if it's your jib, another genoa, or in light air an appropriate sail). You can rig a new, separate sheet for the windward side, or even detach the lazy sheet from the working sail, as long as you remember to re-attach it before any gybes. Get the free halyard and new sheet hooked up with plenty of slack, and the new sail tacked on. Make sure the pole is ready to go. (We use a Forespar twist-lock pole, which adjusts to the right length for whatever sail we're using).
Hoist the new windward sail, attach the pole as close to the sail clew as you can, adjust the pole length, and trim on. The rest is adjustment for the course and breeze. Then watch the boat go faster, especially in light air. You might even lower the mainsail, just go with the headsails.
You can go faster and deeper, with a lot less work. Ocean cruisers sometimes go hundreds of miles with a whisker pole – or even two headsails and two poles. Some races even allow double headsails (we've had great success in "inside" races using a light 155 genoa and our drifter).  Try it on light days when you've got room to work, adjust and trim. It's easy to do with two people, and requires a lot less muscle.
Go sailing. Have fun.
Mike Dwight
Rio Olympic Water Badly Polluted…Even Far Offshore
In July the AP reported that its first round of ocean water tests showed disease-causing viruses directly linked to human sewage at levels to be considered highly alarming in the U.S. or Europe. Experts said athletes were competing in the viral equivalent of raw sewage and exposure to dangerous health risks almost certain.
The story gets worse – the pollution and the IOC's passive reaction has caused World Sailing's president to resign!
In August, after pre-Olympic rowing and sailing events in Rio led to illnesses among athletes nearly double the acceptable limit in the U.S. for swimmers in recreational waters, sports officials pledged that the waters were safe for competition in next year's games. Since August water testing reveals more widely contamination than previously known. The number of viruses found over a kilometer from the shore in Guanabara Bay, where sailors compete at high speeds and get utterly drenched, are equal to those found along shorelines closer to sewage sources.
The Rio 2016 Olympic organizing committee said that "the health and safety of athletes is always a top priority and there is no doubt that water within the field of play meets the relevant standards." AP's testing in Rio, where the water often falls within safe fecal bacteria levels, but shows levels of viruses akin to raw sewage. Many of the testing points show spikes in bacterial contamination — especially in the Olympic lagoon and in the marina where sailors launch crafts. Rio's waterways, like those of many developing nations, are contaminated because most of the city's sewage is not treated and massive amounts of it flow straight into Guanabara Bay.
Rio won the right to host the Olympics based on a lengthy bid document that promised to clean up the city's scenic waterways by improving sewage sanitation; Brazilian officials now acknowledge that won't happen.
Athletes in Rio test events have tried many treatments to avoid falling ill, including bleaching rowing oars, hosing off their bodies the second they finish competing, and preemptively taking antibiotics — which have no effect on viruses. In August, athletes at a competition fell ill; The World Rowing Federation reported that 6.7 percent of 567 rowers got sick at a junior championships event in Rio. The U.S. Environmental Protection Agency's maximum illness rate for swimming is 3.6 percent — and many experts say that is too high.
Water quality experts say a virus count hitting 1,000 per liter in the U.S. or Europe would cause extreme alarm, leading in many cases to beach closures. Recent viral levels were all 30,000 times higher than the U.S. or European highly alarming levels at every of AP's new offshore sampling sites: at a point 600 meters (yards) offshore and within the Sugarloaf sailing race course; at 1,300 meters (yards) offshore within the Naval School sailing circuit; and at a spot inside the Olympic lagoon where rowing lanes are located, about 200 meters (yards) from shore.
In September tests at the Naval School race course and offshore lagoon points, the water tested positive for enterovirus, a major cause of respiratory illness, gastrointestinal ailments and, less often, serious heart and brain inflammation.
Risk assessment experts say that the sheer number of pathogens in Rio's waters means the risk to human health is unacceptable. Rio de Janeiro state authorities promised to complete sewerage infrastructure near the Marina da Gloria by the end of this year and are making progress. Authorities say Olympic venues will then be safe.
But the high levels of sewage-linked pathogens found in the offshore sailing courses pollution come from dozens of rivers that crisscross metropolitan Rio and dump millions of liters of raw sewage into the bay each day. By the government's own estimate, just half of the city's wastewater flowing into the bay is treated.
Sailors are concerned as are other venue participants. One American, himself a winner of two gold medals and one bronze swimming medals at the 1992 Barcelona Games, said if his daughter were a contender in Rio's open-water swimming competition, he would tell her not to compete. "A gold medal is not worth jeopardizing your health, and it doesn't appear at this point that the athletes are being considered first." RIO DE JANEIRO (AP-Brad Brooks). This is a dilemma Olympians don't need to be worried about. POV Pat Dwight
Next page →
← Previous page