What's a big wave? Is it the 100-foot wave from The Perfect Storm"? Could it be the waves from a TV show called Bering Sea Gold, when they tell us there's a storm, and it looks like all of 12 knots of breeze and two-foot chop?
The answer is yes. Any wave that makes you feel that you and your boat are in danger is a big wave. All that matters is that the waves are challenging you, and you're nervous about handling them safely. There are some basic rules that can help:
First -If conditions scare you, don't go out. Getting macho can get you and your passengers in deep trouble. Getting back on Monday morning isn't worth risking the safety and sanity of your crew.
The classic example is the trip back home from Catalina Island. You left the mainland early on Saturday, and it was flat with no wind, so you zoomed over (zoom speed is relative – maybe six knots from the Yanmar in the sailboat, and 25 knots from the twin Volvos in the cruiser). You leave for home on Sunday afternoon, and there 32 knots of breeze pushing some healthy wind waves along with a big swell rolling down the channel, and you've got 26 to 45 miles to go with that on your beam or under your quarter.
You are relatively inexperienced, but you'll probably make it. You'll beat up the boat, and scare the pants off your crew and yourself in the process. The crew may never get on the boat again. Or, you are experienced, and you'll make it. You'll wear yourself and the crew out, and the boat won't be real happy either.
 Second- There's no better teacher than experience, but try to gain that experience with an old hand aboard to help you learn. Often the difference between the emotion "We're gonna die" and the comment "That was a big one" is usually perception and a twitch on the helm.
If you are next to the helm on one of those days, and the driver is calm and under control, it's amazing how much you can learn just watching and listening. Then when you trade places and you've got the helm, have a calm voice in your ear, coupled with the positive results, can help you learn a lot, and apply it at the same time. Then you gain the confidence to try it yourself.
Third – Practice. When you go out, and it's lumpy, take some time to drive the boat both uphill (into the wind and waves) and downhill (away from the wind and waves). Learn what makes the boat feel and respond best under current conditions. You check the weather, then look out the harbor entrance. If you see other boats of your type in the vicinity, go out and play. Practice going into the wind, downwind, into the waves and away from them.
Going into the waves, while often scarier, is easier on the boat and the driver when you do it right.
Don't worry about your specific destination – as long as you're making up distance to the mark (technically VMG – Velocity Made Good), you're doing well. If you steer at an angle somewhere between 20 ⁰ and 45⁰ off the face of the wave, the boat is a lot more comfortable, and is actually faster than heading straight into the sea. You don't get the big flying spray, and you don't get the big pounding crash, either. And, you'll be under control.
Not steering at your mark seems counter-intuitive, but any racing sailor can tell you that it works.
That's nice, you're thinking, but at some point I have to make up for that angle away from the harbor mouth. You're right. You do. If you're paying attention, you'll find a periodic flatter spot between waves that will allow you to make the turn (tack) without wrestling the boat over a bigger wave.
Heading downhill requires more touch, and more attention to your helm. The basic design of most powerboat hulls has a broad, usually flat, surface for the following wave to push on, along with a more or less square corner (the quarter). This means that when that big wave comes at the stern, it lifts the stern while pushing on that flat surface. The combination of shapes and forces make the stern want to go to the side, and the boat wanting to turn parallel to the wave's face, tilting away from the rising wave. This can make for some interesting or even dangerous moments. Sailboats do the same, but with a less exaggerated motion.
With some practice, you can learn to anticipate your boat's tendencies, and start steering up the face and down the backs of oncoming waves, into the direction that swinging stern takes (It's called "Yaw") on following seas.
Fourth – Watch Your Speed. If you pay close attention to your boat speed relative to the waves, and adjust accordingly, you'll find the sweet spot. Wind waves are usually moving at speeds from 13 to 18 knots, so you want to work around that basic datum. If you're steering into the waves, and in a hurry with 15 knots of boat speed, you're meeting big walls of water at 30 knots (just under 35 mph). The air is getting under your hull, and you're flying a bit. That is a lot of energy your boat has to absorb when you hit the next wave. Saves a lot of wear and tear on the boat and the bodies aboard.
Fifth – Steer easy.  Remember, the rudder is turning the stern, not the bow, so you're always just a beat ahead of the boat's motion.  That means you can be making exaggerated corrections, larger and larger turns, out of synch with the waves.  That leads to more bounce, more roll, and frayed nerves.  Usually, it's just slow the boat speed a bit, slow the steering a bit, and get into the rhythm.
When steering off the wind, some of the math works for you. If the waves are moving at 13 knots, and you throttle back to about 13 knots, keeping the bow down enough to increase your waterline (hence control and comfort), you'll find that steering the boat and managing the course is a great deal easier. The waves are coming at you a lot slower, and you have much more time to make your adjustments to steer a comfortable and productive course. With some practice, you'll find yourself actually surfing the boat on the swell.
Take it easy.  Think safe, learn well, practice and just slow down. Your boat, your back and your crew will be much happier.
C. Raymond Hunt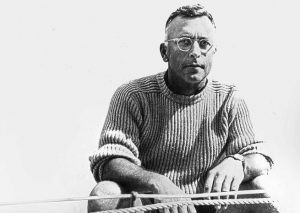 had one of the most significant impacts on modern boating, right up there with Ole Evinrude and Olin Stephens.
Hunt was the naval architect credited with designing the first deep-vee hull(s).  He started working with sailboat and lobster boat designs in the 1930's in Massachusetts, and experimenting with deeper deadrise hulls for powerboats in the 40's.  That led to the revolution in powerboats, with deep-vee designs creating boats that knife through the water rather than sliding over it, with faster smoother and much more seaworthy rides, especially offshore.  In 1960, Hunt designed and Bertram built Moppie, a 31-foot boat based on a tender Hunt made himself, and used to win the famous Miami to Nassau Race.  That became the Bertram 31, a version of which is still in production.
And, it wasn't just Bertram.  Hunt designed the original 13-foot Boston Whaler. in 1957.  C. Raymond Hunt & Associates designed and engineered small boats, big boats, racers and trawlers for many builders, including Chris-Craft, Grady-White, Grand Banks and more than a few others.
So, next time you're powering along offshore, thank Raymond Hunt.  He's why your boat is fast, smooth and stable.