Monthly Archives: May 2015
2015 Blind National Sailing Championship Event Scheduled Sept. 12-13 in Newport RI
While the 2015 Blind National Sailing Championship won't take place until September in Newport RI, last year's 2014 blind sailing championship regatta was a fabulous event.  The 2014 regatta provided two days of great racing between Rose and Goat islands with fierce competition between seven teams over 12 races.
Congratulations to Duane Farrar, Solomon Marini, Denis Bell and Amy Bower for winning and being named the 2014 Blind National Champions.
Sail Newport will be hosting the 2015 Blind National Championships this coming September.  For details contact Sail Newport's Regatta Manager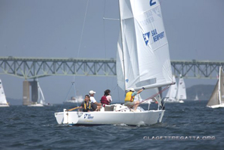 Pat Dwight
~Forespar POV
The Florida Marine Patrol bagged Scott recently.  It was like a simple traffic stop, only on the water.
About 9:30 p.m. Scott was making his nightly six-minute dinghy trek across the harbor back to his boat.  He had dutifully stuck a little red/green split flashlight up on the front of his rubber inflatable.  However, to the Marine Patrol approaching from the rear it appeared Scott was running without any lights at all.  Technically, in addition to the red/green light shining forward, he should have had a white light visible from the rear; either that or a single 3600 light on the boat's highest point. He knew of this regulation, but didn't believe anyone would be that nit-picky.  Acknowledging that the forward lights showed at least an attempt to comply, the patrol sent Scott on his way with a warning.
The following night he repeated his daily trek armed with a bright white suction mount 3600 flashlight.  This new light was so bright it ruined Scott's night vision.  So, he proceeded to hold it high above his head and ventured legally across the harbor. Quickly his arm got tired so he tried sticking it to the dinghy, but being lower than the motor and his torso, the required 3600 coverage was blocked from several angles.
Scott had a brilliant idea – there is an advantage to being bald.  It was dark enough that from land no one could see how odd this may have seemed. Scott wet the inside of the light's suction cup and squished it down upon his skinhead.  Perfect.  Scott now had both hands free, the light was well above everything on the boat, and his night vision was unaffected; he forgot the light was on.
Later, reaching to his head, Scott grabbed the flashlight in hopes of removing it. He tugged, but the light didn't budge.  He tried prying it off at an angle; it didn't budge. Raising one edge of the rubber lip; it didn't budge.
Finally with a loud pop the light came off. According to Scott, the top of his head felt like a can of ravioli, for the suction cup had drawn up his scalp in circular ridges that held their shape.
Undaunted he headed to the shower where he noticed that there was something on the top of his head. When he looked in the mirror, he saw directly in the middle of my head the world's largest, world's most perfect, most crimson hickey.
-Pat Dwight (Forespar POV)

Several times during the past 10 years, friends asked us if we would use our 42' Grand Banks for a sea burial of a recently deceased loved one. We naturally said yes. Though two of those events were far apart in time, there was an event on both that left me with a sense of awe and disbelief.
Off the Southern California coast about three miles out, we stopped engines and turned the deck over to the family and friends to move through the service of their deceased loved one and say their final goodbyes.
In both services, the ashes were spread from the transom by the designated family member. Watching the ashes swirling in the water was surprising and fascinating, since the particles turn a beautiful fluorescent silver float near the surface for an extended time. Along with flowers also tossed in the water, the effect was moving.
Here is where the hummingbird enters the story. After the ashes were dispersed, in both services the group aboard Enchanter was joined by a beautiful hummingbird. Mind you we are three miles out at sea and there were no other boats in sight. Remarkably, the hummingbird didn't just fly randomly around our boat. It purposefully flew up to the family members and guests – up close to their faces – hovering for a few moments and then moving to the next person.
Whether you are religious or believe in things mystical, the effect of this tiny bird apparently communicating in such a lovely way was remarkable and something I'll never forget.
Since then I've asked fellow boaters if they had ever experienced this when participating in a burial at sea. A few said, "Oh yes," and others mentioned that they had been visited by seals, who stopped their forward drive to stay near the boat for a spell.
Whatever the explanation might be, the experience was truly special. Today I see hummingbirds in a completely different way.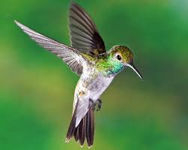 Pat Dwight
~ Forespar POV
Yup, you read it right. In September 2014, Intrepid Powerboats announced a new natural gas hybrid fuel system technology. The new fuel system is already being used by commercial fishermen, charter boats, ferries, tugs, as well as larger ships, the military and recreational users.
Boaters can save as much as 50 percent on fuel immediately by making the change; these savings directly impact high-fuel-usage boaters, many of whom rely on their boat for business.  In many cases, the fuel savings recover the cost of the fuel system in one year for frequent boaters.
Performance of natural gas on a boat is the same or better than with its original fuel, with the added benefit that natural gas emissions are 90 percent cleaner (green alternative fuel) than diesel and 70 percent cleaner than gasoline and do not produce any exhaust odor or smoke.
This will become more important in the next few years when regulatory requirements for emissions are expected to be a lot more stringent.
Pat Dwight
~ Forespar POV
In February, 2015, US Sailing and AmericaOne announced a very exciting initiative, called Project Pipeline.  I want to give you a little personal perspective on the initiative and pass along the link to the press release.
AmericaOne is a long time supporter of the US Olympic Sailing Team. Bob "Buddah" Billingham was a passionate Olympian, a Silver medalist, and A1's representative who initiated this support and oversaw it. He served on the US Olympic Sailing Committee Board for many years.
Bob was excellent at identifying a need and then recruiting the support to make it happen. We all know that not only did Bob have great ideas, he would get them done!
Bob's last target for improving US Olympic sailing was identifying our deficiency in the development of young sailors. As Bob's cancer worsened, he asked me to take his place in working with the US Olympic Sailing Team on this important project.   Sadly, Bob passed away last March.
In the last year, we have developed a plan to increase training, support and opportunity for the youth of America.  Project Pipeline is about getting America back on the Olympic podium but also about raising the level of sailing talent in the US across the board.
US Sailing and AmericaOne are proud to launch this Project. The AmericaOne grant of $5M means Project Pipeline will be initiated immediately. It is our expectation that over the next 10 years, Project Pipeline will grow in breadth and depth, and that others will join in and support this worthy cause.
"The top winning nations in sailing share the common trait of a well-formed talent development system," said Josh Adams, Managing Director of US Olympic Sailing. "This is critical to sustainable success in Olympic sailing. With the extraordinary commitment of $5 million from the AmericaOne Foundation, we are in a position to launch a long-term initiative that will transform the way top young sailors train in the US."
Targeting the best American youth talent, Project Pipeline is the strategy behind a new-look Olympic Development Program, which aims to better serve young sailors, lead them into high-performance boats earlier in their development, and build well-rounded sailors with complete skill sets. Providing training/racing opportunities with world-class coaching and the highest level of technical standards are the core principles of the initiative.
– Paul Cayard, Director, AmericaOne Foundation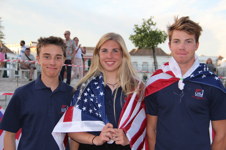 Pat Dwight ~ Forespar POV
Catamaran Finds Fair Winds with Forespar® Leisure Furl™
Forespar's Alan Massey says "Don't just dream your life…get out and live your dream." Massey shares novel tips on preparing your boat for fair wind sailing, including downwind reefing steps to make it easy and comfortable.
Watch the Catamaran Finds Fair Winds with Forespar® Leisure Furl Video Here.
Tom Cunliffe loathed in-boom reefing systems until he encountered a good one…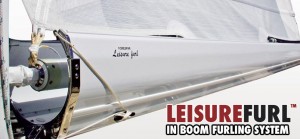 "…the mechanics are well built. They are also simple. Mine, which is far from new, has behaved impeccably for three seasons now." Tom Cunliffe is a British yachting journalist, author and broadcaster.
For more info about Tom, check out: http://www.tomcunliffe.com/about/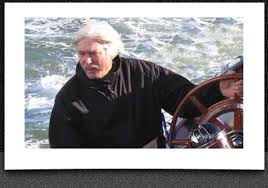 Spring Loaded – Easy Grip Release Handle
Safer And More Stable Dinghy Entry And Exit Point
Solid 316 Stainless Steel And UV Resistant Composites
Quickly Removable Davit Heads and Yokes Eliminate Tripping Hazard
Exclusive Inflatable Adhesive Works On Both Hypalon and PVC Inflatables
Fully Compatible With Most Weaver
Designed for inflatable dinghies up to 200 lbs in total weight (79 kg) and up to 11 feet (3.3 m) in length.
A hinged type davit system, Quik Davit™ quickly connects a dinghy to the back edge of almost any swim platform, allowing it to be tipped up and out of the water for easy storage without towing. The user simply snaps the pieces together to create a hinge that allows the dinghy to be pulled up onto the swim platform or transom. To release the dinghy you simply push it into the water and pull back the spring loaded easy grip release handles to unlock the connection.
Quik Davit™ heads with raised bases are used for swim platforms where the platform is too low to the water for normal hookup. Fits Fast Kit mount system. Sold as a pair.  Quik Davit™ heads with horizontal extension bases are used to clear curved or irregularly shaped edges of swim platforms, or to clear existing swim ladders. Fits Fast Kit mount system. Sold as a pair.
QUIK DAVIT™ HEAD RAISERS
Quik Davit heads with raised bases are used for swim platforms where the platform is too low to the water for normal hookup. Fits Fast Kit mount system. Sold as a pair.
QUIK DAVIT™ HEAD EXTENSIONS
Quik Davit™ heads with horizontal extension bases are used to clear curved or irregularly shaped edges of swim platforms, or to clear existing swim ladders. Fits Fast Kit mount system. Sold as a pair.
Additional Features:
System Heads & Dinghy Pads
Fast Kit for Quick Removal of Davit Heads
"406MHz Beacon Awareness Day" – Monday, April 6, 2015: Win ACR Gear
Imagine you're well away from the coast, you don't even see land anymore on the GPS. Now, imagine that your boat is now taking on water, it's overwhelming the bilge pumps, and you're not getting radio reception, and there's no response to the flares.  What do you do?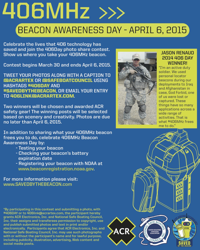 The EPIRB
You may never need it, but when you do, it is literally a lifesaver. That 460MHz beacon reaches one of many satellites, and pretty soon there's that big white helicopter with the big stripe on the side.
NOAA's fleet of weather satellites helped save 240 people last year from potentially life-threatening situations throughout the United States and its surrounding waters. NOAA's polar-orbiting and geostationary satellites can detect distress signals from emergency beacons carried by downed pilots, shipwrecked boaters, and stranded hikers.  Information captured from these satellites, including location, are then relayed to first responders on the ground who assist with search and rescue efforts.
Of the 240 rescues in 2014, 112 were waterborne rescues, 15 were from aviation incidents, and 113 were from events where small handheld devices called Personal Locator Beacons or PLBs were used. Other rescue highlights from 2014 include:
NOAA satellites are part of the international Search and Rescue Satellite Aided Tracking System, known as COSPAS-SARSAT. This system uses a network of spacecraft to detect and locate distress signals quickly from emergency beacons onboard aircraft and boats, and from PLBs.
Since 1982, COSPAS-SARSAT has been credited with supporting more than 37,000 rescues worldwide, including more than 7,492 in the United States and its surrounding waters.
The National Safe Boating Council's (NSBC) Saved by the Beacon campaign is designed to educate recreational boaters about the importance of 406 MHz beacons and how to use them correctly in the case of a boating emergency.
The Saved by the Beacon initiative will introduce the definition of EPIRBs (Emergency Position Indicating Radio Beacons) for boats versus PLBs (Personal Locator Beacons) for life jackets. NSBC will also compare the benefits of beacons to other commonly used mariner's communications devices such as VHF radios, GPS trackers and cell phones.
"406MHz Beacon Awareness Day" – Monday, April 6, 2015
Celebrate the lives that 406 technologies have saved and join the 406Day photo share contest. Show us where you take your 406MHz beacon. Tweet your photos along with a caption to @acrartex and @safeboatcouncil using hashtag #406Day, or email your entry to 406Link@acrartex.com.
Two winners will be chosen and awarded ACR safety gear! The winning posts will be selected based on scenery and creativity. Photos are due no later than April 6, 2015.
An understanding of the devices and their capabilities, illustrating the system capabilities, ensuring compliance and promoting NOAA registration supports efforts to compile the data and evaluate the success of the Saved by the Beacon message.
This campaign is being developed and operated throughout 2015. For details email rjohnson@safeboatingcouncil.org or call (703) 361-4294.
Pat Dwight
~ Forespar POV
"Sailing with a poled-out headsail and your main secured on a preventer on the other side is a very stable and comfortable setup for long distance downwind sailing, and it's how most cruisers cover stress free long miles" – Yachting World – December 2014
Any of us who've sailed a long downwind leg on a cruise usually chose efficiency and stability over extra speed, especially when short-handed – the usual situation on a cruise. So, we fall off and steer a little deeper off the wind, push the main out to leeward, push the headsail out to windward, and go.   Nothing new about that. It's just wing-and-wing – we're constantly careful about the main, and keep steering and trimming to keep the headsail full. That's a lot of work.
The stress-free way involves a whisker pole, running rigging we already have, a couple of blocks, and a couple of lines, and a couple of minutes.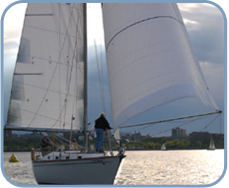 First: Pole.
Most of us use extendable whisker poles, because the pole needs to be as long as the foot of the sail in use – and where do you store a 27 foot pole on a 36 foot boat? Forespar offers several types, ranging from twist-lock adjustables for small and medium boats, line control poles for varying length for sails with heavier loads, all the way to designs for use with asymmetrical spinnakers.
Setup is simple. The inboard end attaches to the ring on the spinnaker car, and outboard end to the sheet. Trim on the sheet, and sail away (See above).
For the larger poles, bigger sails or heavier air, we generally use a topping lift to stabilize the pole. It's also common to use the lazy sheet as a quasi-foreguy if the sea is bumpy, or the air is light (See Below).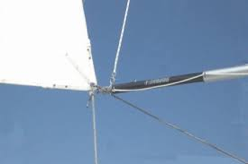 Second: Prevention.
We want to prevent the mainsail boom from an accidental jibe, caused by a wind shift, an errant wave or a steering error. When that boom sweeps across the cockpit in any breeze at all, it's hard on the equipment, and sometimes hard on the crew. So, we rig a preventer.
The old-school method is to run a line from the boom end forward (outside the lifelines) to a block attached well forward, usually on the toe rail. The line then runs aft to an unused winch or cleat. Between the mainsheet, vang, and preventer, the boom's position is steady and easily adjusted, and it won't come ripping across the boat.
A very effective preventer for lighter boats boats under 40 feet is the racers' expedient. Many of us use a separate boom vang rig, readily available at most sailing supply sellers. The snap shackle on one end attaches the bail on the boom – usually the one that's already there, and the other snaps onto the toe rail forward of the boom's position. Ten seconds on, five seconds off, easily adjustable.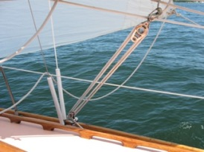 A long downwind leg becomes a lot easier, and a lot more stable with a pole and a preventer.   Easy to rig and trim, easy to stow, and easy on the crew. We've done it, a lot, and we like it, a lot.
Mike Dwight