After the 100-foot Comanche crushed the Newport Bermuda Race record by almost five hours, finishing June 19, it has taken the next boat over two more days to reach Bermuda. While Comanche's finish position was predicted, few could say the same about the runner-up.
High Noon, at 41 feet, is fully 59 feet shorter than Comanche and tens of feet shorter than many other of the 142 starters. Yet High Noon was the second boat to finish , and did so with a 10-person crew, seven of which are teenagers between ages 15 and 18.
This is all about old/new ideas in training young sailors. For decades they sailed only small boats. Enter Peter Becker, who sails out of American Yacht Cub, in Rye, New York. He was an eager 15-year-old when he sailed his first Newport Bermuda Race. "I was the kid on the boat, up on the bow changing sails," he recalls. Since then he's done 16 more Bermuda Races and a race from New York to Barcelona, Spain.
Four years ago his teenage children were getting interested in ocean racing, and he came up with a new approach: a unique training program at his club that came to be called the Young American Junior Big Boat Sailing Team.
He put youngsters in a J/105 racing in local regattas under the his tutelage and that of other big-boat sailors.
From there the youth sailors crewed on short, then longer ocean races, even delivering boats home after the races.  It worked so well that for the 2016 Newport Bermuda Race, the US Merchant Marine Academy Sailing Foundation loaned High Noon to his program.
The results are apparent.  You need crew?  Draft juniors.  They're often as good or better than you are – and a whole lot more agile.
It's about time.
US Sailing and others are pushing to get kids and young people out on the water sailing.  Not necessarily racing, but sailing.
My suggestions may be facile, but:  (a) Start them early, and (b) Keep them involved in the process when they're out there – no passengers.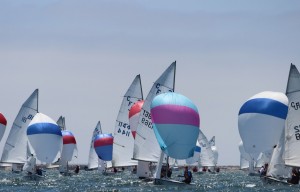 Our primary YC offers one of the finer Juniors' programs on the West Coast.  While we have some superb racers in the Junior ranks, many race in the Harbor for the competitive fun of it, many sail just for the fun.  We start Juniors in the "Starfish" program at about age five, when we can.  They're more at summer camp than on the water, but they are exposed to fun part of boating, with a dose of responsibility. that can then graduate to on the water, first sailing with coaches, then Sabots (racing if they want to), then Optis, then Lidos for fun, or 420's to race, etc.
And, while we're at it, there are a number of racing skippers who make sure that competent (meaning safe)  juniors, mostly adolescents, crew on their boats for local PHRF races, and even on some of the distances races – again, no passengers.  One skipper sailed the Newport-Ensenada race with eight kids and four adults, finishing fifth in a class of 15. All the juniors on that crew are sailing.  Five are still racing , three on a national level, and three sail for fun.
The end result has been sailors who started in the Club at five, with about half of a twenty-year program philosophy still sailing (and that doesn't count the power boaters).  That means BCYC Junior sailing program has produced about 200 sailors still on the water, and more than that overall in recreational boaters.
That also means a pretty good crew pool for those of us who race a lot.
Make it fun, and they will come.