10 Commandments of Beercan Racing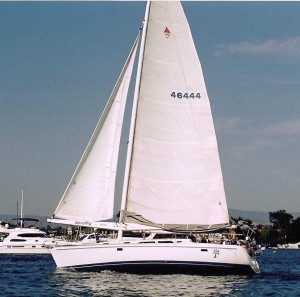 Sailors and clubs across the world hold casual races on weekday evenings.  In the US, we often refer to them as "Beercan Races", supposedly because back in the day you could track the race course by the trail of beer cans floating in the bay.  We're a lot greener today, but the concept holds true:  Race to win, but if you're not having fun, go home. There are basic commandments that govern the sub-sport:
I.  Thou shalt not take anything other than safety too seriously.  Relax, have fun and keep it light. Late to the start?  So what.  Over early? No big thing. Too windy?  Quit. No breeze?  Break out the beer.  The point is to have fun, but stay safe.  To overquote, "Safe boating is no accident".
II.  Thou shalt honor the rules if thou knowest them.  US Sailing amends and publishes the Racing Rules of Sailing on a regular basis, and unless your Sailing Instructions say otherwise, this is the racing Bible.  Few sailors other than PRO's, Judges and rabid racers have studied it cover to cover, since it's about as interesting and exciting as the Tax Code.  For beer can racing, you can get by if you remember the biggies (port tack boats avoid starboard tackers, windward boards avoid leeward ones, and outside boats give room at the marks). Another major is the Law of Tonnage: Stay out of the way of the bigger boats, because even if you're right, getting run over by a big kid still hurts.  So, pay your insurance premiums, and keep a low profile unless you're sure you know what you're doing.  In other words – Common Sense.
III.  Thou shalt not run out of beer.  Self explanatory. There's a reason these are not called milk bottle, coke can, or hot chocolate races.  However, our club does have a tequila sponsor for our Taco Tuesday series.
IV.  Thou shalt not covet thy competitor's boat, sails, equipment, crew or PHRF rating.  No whining; If you're lucky enough to have a sailboat, go out and use it!  You don't need that latest in zircon bearing diamond encrusted widgetry or unobtanium sailcloth to have a great time on the water with your friends (unless it's a Forespar pole).  Even if your boat is a heaving pig, set modest goals and work toward them.  Or don't – it's only beer can racing.
V.  Thou shalt not amp out.  Save that stuff for the freeway or, if you must, Saturday's "real" race.  Remember what happened to Captain Bligh, and realize that if you lose it on Wednesday night, you're going to run out of crew – and friends – in a hurry.  Chill out.  Nobody's going to read about this race in Sailing World. 
VI.  Thou shalt not protest thy neighbor.   This is extremely tacky (pun intended) at this level of competition. It's justifiable if there's damage, and blame needs to be established, but on the whole, tossing a red flag is the height of bad taste in something as relatively inconsequential as a beer can race.  Besides proving that you're clueless about the concept, it screws up everybody's evening.  Don't do it – its bad karma.
VII.  Thou shalt not screw up thy boat.  We all know a hardcore warrior who blew out his main on Thursday and had to sit out a big race on Saturday.  It's just not worth risking your boat and gear in such casual competition.  Avoid other boats at all costs, and stay away from hard objects – buoys, docks, pilings and paddleboards.  If you have two sets of sails, use the old ones.
VIII.  Thou shalt always go to the yacht club afterward.  Part of the gestalt of beer can races is bellying up to the yacht club bar post race.  Corinthian etiquette demands that you congratulates the winners, and buy a round for your crew.  And, the bar is the logical place to meet old friends and make new ones.
IX.  Thou shalt bring thy spouse, kids, friends and whoever else wants to go.  Beer cans are great for introducing folks to sailing – neighbors, house guests, co-workers, the dog, and there's usually someone hanging on the dock that would like to go.  When has there ever been an overabundance of crew?  Of course, there's one our regulars who sails with as many 18 souls on a 45-foot boat for the inside the harbor races.  And, remember the "No Passengers" adage.  Give everyone a job on the boat.  it's more fun that way.
X.  Thou shalt not worry; thou shalt be happy.  Leave the phones in the car, bring some tunes.  Relax, it's not the America's Cup.
See you out there.
Mike Dwight
Thanks to Latitude 38 for the original and illuminated texts