Respected Sailing World Spokesperson John Kretschmer Comments on Forespar's Whisker Poles
"My Forespar 50/50 Whisker Pole is a workhorse, no other piece of equipment on Quetzal is more useful for efficient off the wind sailing. I would not go to sea without it."
Forespar Product News: Swim Step Davit System For Inflatable Dinghies – NO STORAGE – NO TOWING.
Forespar's new QUIK Davit Kit offers a compact and easy-to-install or connect inflatable (soft or hard bottom) dinghy storage options for most power and sailboat swim platforms or transoms…securely and tightly against the swim step.
Learn More: http://www.forespar.com/quikdavit-kit-inflatable-dinghies.shtml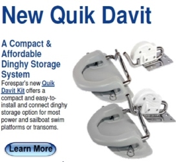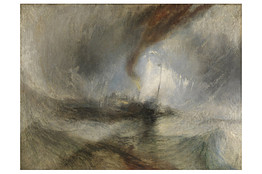 English Painter J.M.W. Turner's (1775-1851) painting "Set Free" is currently on display at the Getty Museum. Depicting a raging sea and a ship caught in a deep trough between two surging hills of waves that surround the endangered boat, this famous scene reminds us that the ocean has drawn us in for centuries; some of our sea journeys are more remarkable than others.
Pat D.
Q: What is included in the y-valve repair kit?
A: The y-valve repair kit comes with a new valve handle, O-ring, wiper, screws and cover plate. The part number regardless of age or hose size for the kit is 902006. When replacing the parts, use waterproof grease such as Marelube™ to help keep the valve protected and lubricated.
Make sure to open and close your valves at least a couple times a month so that they do not become stuck. If you cannot reach the valve, pour Marelube™ liquid down one of the hoses and open and close the valve so that it becomes properly lubricated.
If you have any further questions or need replacement parts, please contact us at sales@forespar.com. 
 Q: Are whisker pole lock repair kits available for purchase?
A: The internal locking mechanism in Forespar® twist-lock poles can wear with time and lose their ability to lock. Replacement lock kits are available for purchase online. To help prolong the longevity of the locks, use fresh water to clean your pole and never use a lubricant as this can cause the lock to swell and become dysfunctional. Additionally, twist-lock poles should only be used on boats of length 30ft and under as larger boats can place too heavy a load on twist-lock poles.
If you have any further questions or need replacement parts, please contact us at sales@forespar.com.