Traveler has now completed a three-year circumnavigation.
Traveler Postcard From San Diego
June 30, 2010
We're back in the United States of America!  After a very rough Baja Bash clawing our way into the wind and waves, against the current and up the coast from Cabo San Lucas, Traveler is safely in the Guest Slip at the Southwestern Yacht Club, where we are very much enjoying our stay. The club was recently totally rebuilt and is gorgeous.
Last night Barbara and I took the dinghy across the San Diego Bay to Joe's Crab Shack for dinner then walked over to Petco Field to see the Colorado Rockies play the San Diego Padres.
After a whole world full of amazing experiences in 61 foreign countries on six continents over the past 36 months, it felt strange NOT to be in a third-world county.  San Diego is one of the world's greatest cities.
I'm having mixed emotions about the voyage coming to an end.  To be sure, I am more than a bit travel weary and ready to return to reality.  On the other hand, I will greatly miss all of the exciting ports of call and days at sea.
Tonight, at about 11 pm, we will cast off the dock lines for the last time and depart San Diego and motor through the night to Catalina, arriving there Thursday morning, and staying at anchor at the Balboa Yacht Club's station at White's Cove for two nights, Thursday and Friday.
On Saturday, July 3, we weigh anchor for the last time and cross the Catalina Channel, an easy 26 miles and the final leg of our 30,000+ mile, three-year, around the world voyage.  We expect to arrive at the entrance to Newport Harbor at about 1:40 pm, where we will be joined by some friends in their boats as we cross our outbound track and complete the circumnavigation by docking at the Balboa Yacht Club for our Traveler Homecoming and Crew Reunion Party, beginning at 2pm.
Hope you can join us in the celebration.
Cheers,
Michael, Barbara and Brian
To read more of their adventure head to: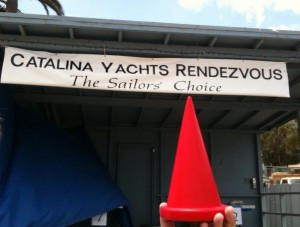 I found TruPlug at the Catalina Yachts Rendezvous at Two Harbors on Catalina Island last weekend!
I went over on the Catalina Express from San Pedro to Two Harbors on a cloudy morning. 0800 departure. Arrival at Two Harbors at 0915 was uneventful and the activites on shore for the Rendezvous were in full swing.  Gerry Douglas was meeting with the various fleets and Sharon Day was working with registration and event planners to make the entire event a success.
Mr. and Mrs. Butler were there to oversee the entire event and everyone was having a great time.  I presented a talk to consider Safety as a Mindset rather than a list of equipment.  Author, Richard Drechsler was the Friday Night keynote speaker on his voyages to Alasaka and Mexico aboard his Catalina equipped with a Forespar Leisure Furl. His book, "Manning Up in Alaska" is a good read!
Friday night beer can racing in Milwaukee has been great this summer! Nice wind and beautiful weather. All boats are JAM ( jib and main only ) so whisker poles are a must! Here is a picture of Bill Mosher playing catch up with the fleet…
Gesture was built in 1942 at the Quincy Adams yard in Boston. She was hidden during WW-II and was re-launched after the war ended and won the Bermuda race multiple times in the 1950's. Came to the west coast in the mid 1970's on her own bottom via the Panama Canal and has "lived" in Newport Beach ever since.
She has been going through an extensive refit over the last 10 years with are built mast, boom, new teak deck and engine. She will sail again in July, 2010 after a 10 year break. I have been with this project since 1979.
The mast was rebuilt at/by Forespar and we added new spreaders and internal halyards. The new boom was also made by Forespar as was her pair of 24 foot spinnaker poles.
She is such a joy to sail! I've been in 40 knots with a #4 jib and just a flattening reef in the main and the helm was so balanced you could steer her with two fingers.
Wooden boats are non-stop maintenance but well worth the effort!
– Art Bandy