We are very honored and excited to have been named the 2015 recipient of the Fisheries Supply InNEWvation award in the Plumbing category! Pictured are our own designers John Dean and Art Bandy with the award-winning ClearView End Fittings.  Forespar's composite boat plumbing features the full line of Marelon, from seals and fitting to a full array of valves.

Mike Dwight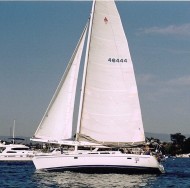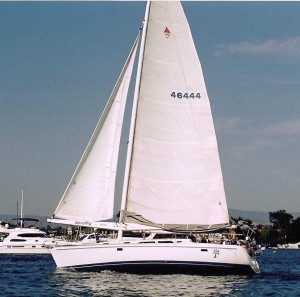 Bob Foresman, Forespar's founder, never stopped innovating and testing sailing concepts – a company premise that continues today, 50 years later.  From the original telescoping whisker poles made in the garage to today's carbon fiber poles, furling systems and the rest of a catalog of boating products from the modern plant, the family continues to experiment, produce and sell new products.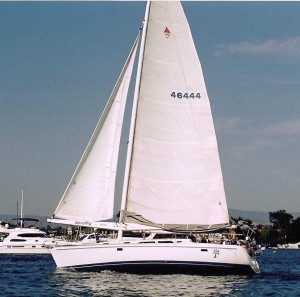 A classic example is Fore Sail, the Foresman's Catalina 400.  Working with Catalina Yachts, Forespar developed Fore Sail as a test bed for a Forespar-built Aero Rig, with an eye toward a Catalina production model.  While this ultimately proved impractical because of market conditions, an easy-to-sail (and single hand) 40-foot cruiser with a very different rig drew a lot of attention in the early 90's.  Shown here with Art Bandy, now the Forespar OEM Sales Manager, at the helm and strings tacking up the Newport Beach Lido Channel.
When was the last time you inspected your chainplates? Shrouds and tangs, of course, because they're easy to see, but the chainplates themselves.  If you take the time, and carefully inspect all parts of the rig, you can prevent failures – and losing the rig is at best a bad thing.
Many boat owners, especially those with newer boats, aren't real sure what a chainplate is, or how essential to the rig they are. Since they provide the foundation of the rig at the base of the shrouds and stays, they're often masked behind surfaces and seat backs.
They can be hidden or right out in view, as in these pictures from Ericson Yachts
Regardless, they bear huge loads, and are a common point of failure.  Remember, stainless is not permanent, and is subject to metal fatigue and corrosion, especially after about ten years. At that point, it becomes a very good idea to inspect the chainplates, fore and aft, side to side, when you're planning a cruise, and especially if you sail in heavy air or seas. We've all "replaced" our standing rigging without a thought to the chainplates.
Look at the photo above. When this happens, your rig gets very unhappy, and so will you.  Get down below and take a good hard look at those plates and straps.  Or better yet, ask your rigger or a surveyor for an inspection.  The worst thing that can happen is nothing, and that's good.
Mike Dwight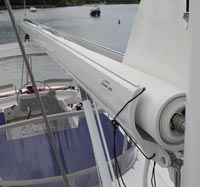 Leisure Furl™ is pleased to announce the launch of its long-anticipated website. Serving offshore and coastal sailors for many years, Leisure Furl™ is today the worldwide leader of in-boom mainsail reefing and furling systems. http://www.leisurefurl.com/
Whether rigged on monohull or multihull, Leisure Furl™ delivers simplicity and ease of use, and unmatched reliability proven on all types of boats, and hundreds of thousands of nautical miles.
Engineered specifically for your boat, Leisure Furl™ offers eight unique models and a multi-factor design program that assures your system will be exactly right for your boat. Available in aluminum or carbon fiber, each boom can be customized with a variety of finishes and power systems.
Pat Dwight
It sounds a lot more complicated than it is. All you need is:
• your usual genoa
• a second headsail
• a mast with two foresail halyards
• a whisker pole
Your destination is deep off the wind. The breeze is light to moderate, and you'd like to be moving faster, but either don't have a spinnaker aboard, or just don't want to wrestle with it. Wing-and-wing isn't working because your course isn't dead down wind, or you just don't want to deal with the constant trimming.  The usual solution is to come up on the wind, heat it up and get some boat speed, gybing your way to your mark. It's more work, but it can get you there faster if you plan your gybes well.
Or go with two headsails.
Get the other sail on deck (it doesn't matter if it's your jib, another genoa, or in light air an appropriate sail). You can rig a new, separate sheet for the windward side, or even detach the lazy sheet from the working sail, as long as you remember to re-attach it before any gybes. Get the free halyard and new sheet hooked up with plenty of slack, and the new sail tacked on. Make sure the pole is ready to go. (We use a Forespar twist-lock pole, which adjusts to the right length for whatever sail we're using).
Hoist the new windward sail, attach the pole as close to the sail clew as you can, adjust the pole length, and trim on. The rest is adjustment for the course and breeze. Then watch the boat go faster, especially in light air. You might even lower the mainsail, just go with the headsails.
You can go faster and deeper, with a lot less work. Ocean cruisers sometimes go hundreds of miles with a whisker pole – or even two headsails and two poles. Some races even allow double headsails (we've had great success in "inside" races using a light 155 genoa and our drifter).  Try it on light days when you've got room to work, adjust and trim. It's easy to do with two people, and requires a lot less muscle.
Go sailing. Have fun.
Mike Dwight
Rio Olympic Water Badly Polluted…Even Far Offshore
In July the AP reported that its first round of ocean water tests showed disease-causing viruses directly linked to human sewage at levels to be considered highly alarming in the U.S. or Europe. Experts said athletes were competing in the viral equivalent of raw sewage and exposure to dangerous health risks almost certain.
The story gets worse – the pollution and the IOC's passive reaction has caused World Sailing's president to resign!
In August, after pre-Olympic rowing and sailing events in Rio led to illnesses among athletes nearly double the acceptable limit in the U.S. for swimmers in recreational waters, sports officials pledged that the waters were safe for competition in next year's games. Since August water testing reveals more widely contamination than previously known. The number of viruses found over a kilometer from the shore in Guanabara Bay, where sailors compete at high speeds and get utterly drenched, are equal to those found along shorelines closer to sewage sources.
The Rio 2016 Olympic organizing committee said that "the health and safety of athletes is always a top priority and there is no doubt that water within the field of play meets the relevant standards." AP's testing in Rio, where the water often falls within safe fecal bacteria levels, but shows levels of viruses akin to raw sewage. Many of the testing points show spikes in bacterial contamination — especially in the Olympic lagoon and in the marina where sailors launch crafts. Rio's waterways, like those of many developing nations, are contaminated because most of the city's sewage is not treated and massive amounts of it flow straight into Guanabara Bay.
Rio won the right to host the Olympics based on a lengthy bid document that promised to clean up the city's scenic waterways by improving sewage sanitation; Brazilian officials now acknowledge that won't happen.
Athletes in Rio test events have tried many treatments to avoid falling ill, including bleaching rowing oars, hosing off their bodies the second they finish competing, and preemptively taking antibiotics — which have no effect on viruses. In August, athletes at a competition fell ill; The World Rowing Federation reported that 6.7 percent of 567 rowers got sick at a junior championships event in Rio. The U.S. Environmental Protection Agency's maximum illness rate for swimming is 3.6 percent — and many experts say that is too high.
Water quality experts say a virus count hitting 1,000 per liter in the U.S. or Europe would cause extreme alarm, leading in many cases to beach closures. Recent viral levels were all 30,000 times higher than the U.S. or European highly alarming levels at every of AP's new offshore sampling sites: at a point 600 meters (yards) offshore and within the Sugarloaf sailing race course; at 1,300 meters (yards) offshore within the Naval School sailing circuit; and at a spot inside the Olympic lagoon where rowing lanes are located, about 200 meters (yards) from shore.
In September tests at the Naval School race course and offshore lagoon points, the water tested positive for enterovirus, a major cause of respiratory illness, gastrointestinal ailments and, less often, serious heart and brain inflammation.
Risk assessment experts say that the sheer number of pathogens in Rio's waters means the risk to human health is unacceptable. Rio de Janeiro state authorities promised to complete sewerage infrastructure near the Marina da Gloria by the end of this year and are making progress. Authorities say Olympic venues will then be safe.
But the high levels of sewage-linked pathogens found in the offshore sailing courses pollution come from dozens of rivers that crisscross metropolitan Rio and dump millions of liters of raw sewage into the bay each day. By the government's own estimate, just half of the city's wastewater flowing into the bay is treated.
Sailors are concerned as are other venue participants. One American, himself a winner of two gold medals and one bronze swimming medals at the 1992 Barcelona Games, said if his daughter were a contender in Rio's open-water swimming competition, he would tell her not to compete. "A gold medal is not worth jeopardizing your health, and it doesn't appear at this point that the athletes are being considered first." RIO DE JANEIRO (AP-Brad Brooks). This is a dilemma Olympians don't need to be worried about. POV Pat Dwight
First – what's a big wave? Is it the 100-foot wave from The Perfect Storm"? Could it be the waves from a TV show called Bering Sea Gold, when they tell us there's a storm, and it looks like all of 12 knots of breeze and two-foot chop?
The answer is yes. Any wave that makes you feel that you and your boat are in danger is a big wave. All that matters is that the waves are challenging you, and you're nervous about handling them safely. There are some basic rules that can help:
First -If conditions scare you, don't go out. Getting macho can get you and your passengers in deep trouble. Getting back on Monday morning isn't worth risking the safety and sanity of your crew.
The classic example is the trip back home from Catalina Island. You left the mainland early on Saturday, and it was flat with no wind, so you zoomed over (zoom speed is relative – maybe six knots from the Yanmar in the sailboat, and 30 knots from the twin Volvos in the cruiser). You leave for home on Sunday afternoon, and there 32 knots of breeze pushing some healthy wind waves along with a big swell rolling down the channel, and you've got 20 to 30 miles to go with that on your beam or under your quarter.
You are relatively inexperienced, but you'll probably make it. You'll beat up the boat, and scare the pants off your crew and yourself in the process. The crew may never get on the boat again. Or, you are experienced, and you'll make it. You'll wear yourself and the crew out, and the boat won't be real happy either.
 Second- There's no better teacher than experience, but try to gain that experience with an old hand aboard to help you learn. Often the difference between the emotion "We're gonna die" and the comment "That was a big one" is usually perception and a twitch on the helm.
If you are next to the helm on one of those days, and the driver is calm and under control, it's amazing how much you can learn just watching and listening. Then when you trade places and you've got the helm, a calm voice in your ear, coupled with the positive results, can help you learn a lot, and apply it at the same time. Then you gain the confidence to try it yourself.
Third – Practice. When you go out, and it's lumpy, take some time to drive the boat both uphill (into the wind and waves) and downhill (away from the wind and waves). Learn what make the boat feel and respond best under current conditions. You check the weather, then look out the harbor entrance. If you see other boats of your type in the vicinity, go out and play. Practice going into the wind, downwind, into the waves and away from them.
Going into the waves, while often scarier, is easier on the boat and the driver when you do it right.
Don't worry about your specific destination – as long as you're making up distance to the mark (technically VMG – Velocity Made Good), you're doing well. If you steer at an angle somewhere between 20 ⁰ and 45⁰ off the face of the wave, the boat is a lot more comfortable, and is actually faster than heading straight into the sea. You don't get the big flying spray, and you don't get the big pounding crash, either. And, you'll be under control.
Not steering at your mark seems counter-intuitive, but any racing sailor can tell you that it works.
That's nice, you're thinking, but at some point I have to make up for that angle away from the harbor mouth. You're right. You do. If you're paying attention, you'll find a periodic flatter spot between waves that will allow you to make the turn (tack) without wrestling the boat over a bigger wave.
Heading downhill requires more touch, and more attention to your helm. The basic design of most powerboat hulls has a broad, usually flat, surface for the following wave to push on, along with a more or less square corner (the quarter). This means that when that big wave comes at the stern, it lifts the stern while pushing on that flat surface. The combination of shapes and forces make the stern want to go to the side, and the boat wanting to turn parallel to the wave's face, tilting away from the rising wave. This can make for some interesting or even dangerous moments. Sailboats do the same, but with a less exaggerated motion.
With some practice, you can learn to anticipate your boat's tendencies, and start steering up the face and down the backs of oncoming waves, into the direction that swinging stern takes (It's called "Yaw") on following seas.
Fourth – Watch Your Speed. If you pay close attention to your boat speed relative to the waves, and adjust accordingly, you'll find the sweet spot. Wind waves are usually moving at speeds from 13 to 18 knots, so you want to work around that basic datum. If you're steering into the waves, and in a hurry with 15 knots of boat speed, you're meeting big walls of water at 30 knots (just under 35 mph). The air is getting under your hull, and you're flying a bit. That is a lot of energy your boat has to absorb when you hit the next wave. A lot of wear and tear on the boat and the bodies aboard.
When steering off the wind, some of the math works for you. If the waves are moving at 13 knots, and you throttle back to about 13 knots, keeping the bow down enough to increase your waterline (hence control and comfort), you'll find that steering the boat and managing the course is a great deal easier. The waves are coming at you a lot slower, and you have much more time to make your adjustments to steer a comfortable and productive course. With some practice, you'll find yourself actually surfing the boat.
Think safe, learn well, practice and slow down. Your boat, your backs and your butts will be much happier.
Mike Dwight