https://www.youtube.com/watch?v=W5f9tvY7RP0
Every boat needs a helmsman and a main trimmer like Oracle.  You can see Artemis crossing and coming off the foils, and Oracle slamming on the brakes while coming up as the boom comes across.
Closing at more than 40 knots, and no time to trim, duck or do anything except the right thing obviously gets interesting fast.  We think this is scary at eight knots.  Who was that said "…watching a sailboat race is like watching paint dry."?
Some time there's a good idea that goes quietly unnoticed except for the insiders.  Here's case in point: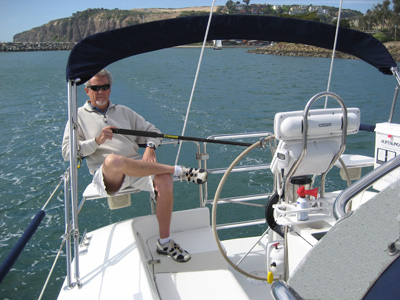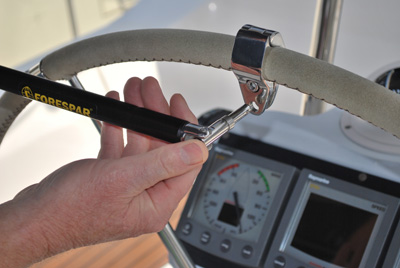 A steering control arm.  You want sit comfortably alongside the wheel, where you can see better, and steer with your fingertips.  Or you want to get on the rail because its blowing a bit, you want the weight change as well as a better look the the sails.
A quick push button connector lets you attached the arm to your wheel, and when it's time for real wheel steering, with a couple of seconds it's off.  Better yet, it extends with a twist lock
For that long reach or tack, especially on an lazy day, the steering control arm is just the ticket for a easy sail.
Mike Dwight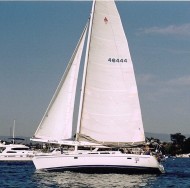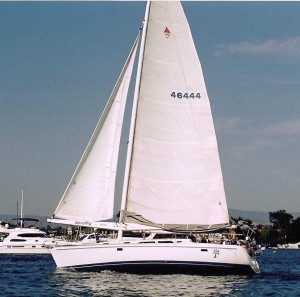 Bob Foresman, Forespar's founder, never stopped innovating and testing sailing concepts – a company premise that continues today, 50 years later.  From the original telescoping whisker poles made in the garage to today's carbon fiber poles, furling systems and the rest of a catalog of boating products from the modern plant, the family continues to experiment, produce and sell new products.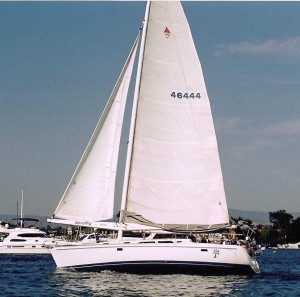 A classic example is Fore Sail, the Foresman's Catalina 400.  Working with Catalina Yachts, Forespar developed Fore Sail as a test bed for a Forespar-built Aero Rig, with an eye toward a Catalina production model.  While this ultimately proved impractical because of market conditions, an easy-to-sail (and single hand) 40-foot cruiser with a very different rig drew a lot of attention in the early 90's.  Shown here with Art Bandy, now the Forespar OEM Sales Manager, at the helm and strings tacking up the Newport Beach Lido Channel.
Q: Can I buy LED replacement bulbs for the ML-2 Combination Bow and Foredeck Light?
A: The ML-2 combination bow and foredeck light comes with standard light bulbs. There is the option buy the ML-2 with LED bulbs. Additionally, the ML-1 deck light can be ordered with a LED bulb. Replacement LED bulbs for both the ML-1 and ML-2 are available.
If you have any further questions or need replacement parts, please contact us at sales@forespar.com. 
Attention Southern California PHRF racers! It's time – once again – for the Long Beach to Dana Point Race. This 39 mile course for PHRF Classes and a shorter course for the Cruising Class is lots of fun for you and your crew! A great race to celebrate the end of summer with your family.