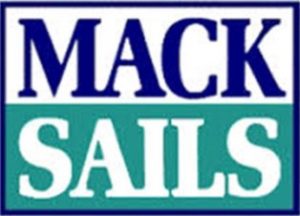 Something Big This Way Commeth …
when in 1967 Swedish Sailmakers, a Fort Lauderdale fledgling  sailmaking firm, partnered with lifelong sailor Brad Mack and Bradford Mack & Co was launched.  For the next 20 years, the company continued to expand and in 1988 moved to Stuart, FL and was renamed Mack Sails.   Over the years  the company has expanded to include a full service rigging shop and a complete  marine electronics service . Every Mack Sail is made in Stuart, FL and "…we insist that each one is made from the very best cloth and hardware."
Brad Mack's two sons, Travis Blain and Colin Mack , grew up in sail boats racing,  cruising, or in the sail loft "learning the ropes." After college Travis and Colin officially joined the firm and in 2002, took the helm, sharing the management and striving to deliver an extraordinarily designed and crafted product.
Colin and Travis remember  the old days when they were 'sponges'  learning everything possible at a rapid fire pace.  "The lessons have all paid off because without the encouragement and guidance of our dad, the company could never have become what it has today."
For close to 50 years the family tradition of pride and commitment to quality service sets Mack Sails apart  based on these standards:
Pride in every sail we manufacture – all designed for speed and durability
Only the highest quality U.S. woven and finished  cloth and tapes are used in our sails
Hands on customer service begins with the initial contact and continues all the way through sail and rigging delivery and installation
Strong relationships have  played a significant role in Mack Sails' growth.  In 1967, a key affiliation with Forespar began when Brad reached out across the U.S. for like-minded entrepreneurs who held similar strong business and family values.  For the next 40 plus years, the Mack Sails and Forespar® relationship thrived and remains an industry symbol of 'partnering for progress' for both entities.
What  the collaboration with Forespar stands for is simple, according to Travis.  Mack Sails has worked with them on many  projects (one of the first  hydraulic Leisure Furl™ booms  – aluminum or carbon fiber booms offer safety and convenience of In-Boom mainsail reefing and furling systems from the safety of the cockpit .)
"Collectively, we pooled resources and were the first ever  to  design and install a large roached full batten main for  a Leisure Furl™  boom furling system on a Lagoon 440," said Travis.
Colin  says, "Throughout  this journey, we've blended excellent products and service that satisfies the most demanding and rigorous standards that sailors demand.  Forespar  makes the boom furlers, and we make the sails and install them (riggers and sailmakers).  This collaboration extends beyond the U.S., with LeisureFurl installations most recently as far away as Italy and Trinidad."
"Forespar has developed a very good LeisureFurl™ design that allows Mack Sails no restrictions on multi-hulls; because  of that we sell more of their booms and we install the boom systems and sails in sync, " Colin concluded.
Forespar Vice President Bill Hanna sees the strong bond between both companies as a significant advantage to Forespar's success over the years.  "Though they are located in Florida, the Mack Sails team is always a phone call away…it's as if they were in the office right next door.   Our collaborations have become almost seamless because we've shared building and delivering quality boom systems, sails and rigging for nearly 50 years!"
Mike Dwight
We are very honored and excited to have been named the 2015 recipient of the Fisheries Supply InNEWvation award in the Plumbing category! Pictured are our own designers John Dean and Art Bandy with the award-winning ClearView End Fittings.  Forespar's composite boat plumbing features the full line of Marelon, from seals and fitting to a full array of valves.

Mike Dwight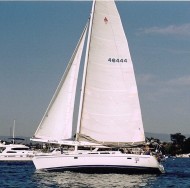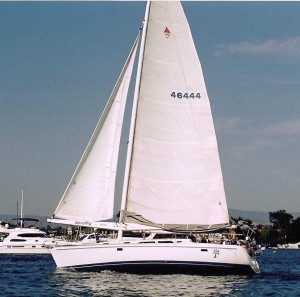 Bob Foresman, Forespar's founder, never stopped innovating and testing sailing concepts – a company premise that continues today, 50 years later.  From the original telescoping whisker poles made in the garage to today's carbon fiber poles, furling systems and the rest of a catalog of boating products from the modern plant, the family continues to experiment, produce and sell new products.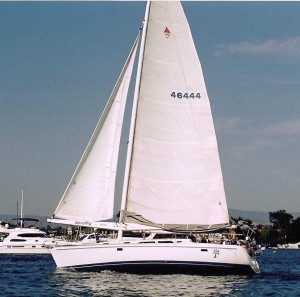 A classic example is Fore Sail, the Foresman's Catalina 400.  Working with Catalina Yachts, Forespar developed Fore Sail as a test bed for a Forespar-built Aero Rig, with an eye toward a Catalina production model.  While this ultimately proved impractical because of market conditions, an easy-to-sail (and single hand) 40-foot cruiser with a very different rig drew a lot of attention in the early 90's.  Shown here with Art Bandy, now the Forespar OEM Sales Manager, at the helm and strings tacking up the Newport Beach Lido Channel.
The sun peeked out and brought wind to the 2010 Whidbey Island Race Week just as the Mark Whitman Band blew into town to entertain the 500+ sailors. After a day of drifters and a shortened race program on Monday, Tuesday provided much close racing and enough breeze to put the event back on schedule….a happy day! Mount Gay Rum and others sponsored the evening's party featuring the Mark Whitman Band and free drinks…..now that's a combination for tired sailors to sit back and enjoy!!
As Forespar NW representative–and a member of the band– it was just a huge pleasure to be able to entertain everyone and the band was very well-received. Mark Whitman is the gentleman sitting at the keyboards, and a true NW legend in blues and rock & roll. This year's Washington Blues Society's Best Male Blues Vocalist, Mark is also a winner of a lifetime achievement award and Best NW Blues Guitarist before a devastating stroke changed his life two years ago. That band has stuck with him through extensive therapy and helped him to begin mastery of another instrument at age 60, the keyboard. Playing with one hand, he's just amazing and that fine blues voice has never changed. The band is experiencing a strong surge of popularity that was not even a glimmer on the horizon two years a go…..that goes to show you how tough some folks can be and Mark is our hero. If sailboat racing had been his life's pursuit he'd have been one tenacious competitor!
The band was approached for more marine industry-related jobs, and hit a nice note with the attending sailors. Halfway through the night, on behalf of Forespar and the band, I talked about the new TruPlugs and gave several out to the sailors as gifts. The next two hours proved how inventive sailboat racers can be as we watched the TruPlugs used in many "non-standard" applications!!! The night ended with our best wishes to crowd for fair winds, tight racing, and room at the mark! An EXCELLENT time!!
Jeff Mason
Forespar NW Representative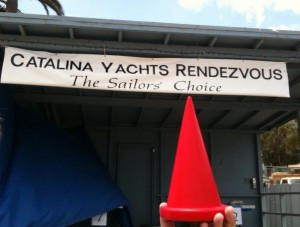 I found TruPlug at the Catalina Yachts Rendezvous at Two Harbors on Catalina Island last weekend!
I went over on the Catalina Express from San Pedro to Two Harbors on a cloudy morning. 0800 departure. Arrival at Two Harbors at 0915 was uneventful and the activites on shore for the Rendezvous were in full swing.  Gerry Douglas was meeting with the various fleets and Sharon Day was working with registration and event planners to make the entire event a success.
Mr. and Mrs. Butler were there to oversee the entire event and everyone was having a great time.  I presented a talk to consider Safety as a Mindset rather than a list of equipment.  Author, Richard Drechsler was the Friday Night keynote speaker on his voyages to Alasaka and Mexico aboard his Catalina equipped with a Forespar Leisure Furl. His book, "Manning Up in Alaska" is a good read!
Friday night beer can racing in Milwaukee has been great this summer! Nice wind and beautiful weather. All boats are JAM ( jib and main only ) so whisker poles are a must! Here is a picture of Bill Mosher playing catch up with the fleet…
Gesture was built in 1942 at the Quincy Adams yard in Boston. She was hidden during WW-II and was re-launched after the war ended and won the Bermuda race multiple times in the 1950's. Came to the west coast in the mid 1970's on her own bottom via the Panama Canal and has "lived" in Newport Beach ever since.
She has been going through an extensive refit over the last 10 years with are built mast, boom, new teak deck and engine. She will sail again in July, 2010 after a 10 year break. I have been with this project since 1979.
The mast was rebuilt at/by Forespar and we added new spreaders and internal halyards. The new boom was also made by Forespar as was her pair of 24 foot spinnaker poles.
She is such a joy to sail! I've been in 40 knots with a #4 jib and just a flattening reef in the main and the helm was so balanced you could steer her with two fingers.
Wooden boats are non-stop maintenance but well worth the effort!
– Art Bandy