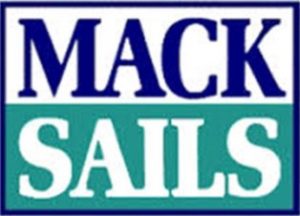 Something Big This Way Commeth …
when in 1967 Swedish Sailmakers, a Fort Lauderdale fledgling  sailmaking firm, partnered with lifelong sailor Brad Mack and Bradford Mack & Co was launched.  For the next 20 years, the company continued to expand and in 1988 moved to Stuart, FL and was renamed Mack Sails.   Over the years  the company has expanded to include a full service rigging shop and a complete  marine electronics service . Every Mack Sail is made in Stuart, FL and "…we insist that each one is made from the very best cloth and hardware."
Brad Mack's two sons, Travis Blain and Colin Mack , grew up in sail boats racing,  cruising, or in the sail loft "learning the ropes." After college Travis and Colin officially joined the firm and in 2002, took the helm, sharing the management and striving to deliver an extraordinarily designed and crafted product.
Colin and Travis remember  the old days when they were 'sponges'  learning everything possible at a rapid fire pace.  "The lessons have all paid off because without the encouragement and guidance of our dad, the company could never have become what it has today."
For close to 50 years the family tradition of pride and commitment to quality service sets Mack Sails apart  based on these standards:
Pride in every sail we manufacture – all designed for speed and durability
Only the highest quality U.S. woven and finished  cloth and tapes are used in our sails
Hands on customer service begins with the initial contact and continues all the way through sail and rigging delivery and installation
Strong relationships have  played a significant role in Mack Sails' growth.  In 1967, a key affiliation with Forespar began when Brad reached out across the U.S. for like-minded entrepreneurs who held similar strong business and family values.  For the next 40 plus years, the Mack Sails and Forespar® relationship thrived and remains an industry symbol of 'partnering for progress' for both entities.
What  the collaboration with Forespar stands for is simple, according to Travis.  Mack Sails has worked with them on many  projects (one of the first  hydraulic Leisure Furl™ booms  – aluminum or carbon fiber booms offer safety and convenience of In-Boom mainsail reefing and furling systems from the safety of the cockpit .)
"Collectively, we pooled resources and were the first ever  to  design and install a large roached full batten main for  a Leisure Furl™  boom furling system on a Lagoon 440," said Travis.
Colin  says, "Throughout  this journey, we've blended excellent products and service that satisfies the most demanding and rigorous standards that sailors demand.  Forespar  makes the boom furlers, and we make the sails and install them (riggers and sailmakers).  This collaboration extends beyond the U.S., with LeisureFurl installations most recently as far away as Italy and Trinidad."
"Forespar has developed a very good LeisureFurl™ design that allows Mack Sails no restrictions on multi-hulls; because  of that we sell more of their booms and we install the boom systems and sails in sync, " Colin concluded.
Forespar Vice President Bill Hanna sees the strong bond between both companies as a significant advantage to Forespar's success over the years.  "Though they are located in Florida, the Mack Sails team is always a phone call away…it's as if they were in the office right next door.   Our collaborations have become almost seamless because we've shared building and delivering quality boom systems, sails and rigging for nearly 50 years!"
Mike Dwight