Olympics: A sailing surprise as the water and conditions are ideal on Guanabara Bay
Home
|
Uncategorized
|
Olympics: A sailing surprise as the water and conditions are ideal on Guanabara Bay
RIO DE JANEIRO – Sailing, not the dirty water, was finally the focus on troubled Guanabara Bay during a spectacular start to the Olympic regatta.
Windsurfers sped across the waves toward Flamengo Beach in a fresh breeze, against the imposing backdrop of Sugarloaf Mountain. Christ the Redeemer, Rio's highest and most magnificent landmark, was obscured by fog.
Across the bay, 43-year-old Robert Scheidt won the second race in the Laser class after finishing a disappointing 23rd in the opener. He's trying to become the first Olympic sailor and first Brazilian to win six Olympic medals. He owns two golds, two silvers and a bronze. He's seventh overall.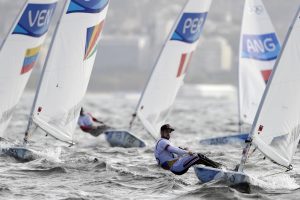 Charlie Buckingham of Newport Beach, making his Olympic debut in the Laser class, said the water "was great. No trash. It was warm. Splashes felt good."
Buckingham finished 20th and seventh in the two races Monday, with eight races to go before the medal race.
Guanabara Bay seemed to pass the sniff test, at least on the surface.
The courses appeared clear of trash. Organizers have sent a helicopter over the bay every morning searching for rubbish. If any is spotted, boats are sent to scoop it up. Barriers have been put across rivers to try to stem the flow of garbage into the bay.
Under the waves, things are different.
An independent study by The Associated Press has shown high levels of viruses and sometimes bacteria from human sewage in the water.
"We're not really concerned about that," Pascual said. "We've been here for a while training and we've hadn't had an issue. I'm just focused on racing. There's been days when it rains you can see stuff floating around, but it's like everywhere else I guess. It's a bay."
American Paige Railey, who finished second in the second Laser Radial race and is seventh overall, said the water was "great, totally fine. Warm, clean. We were happy. I really want to give hats off to Brazil. I came here in 2007 for the Pan Ams and they've done a magnificent job of cleaning up the water and there are really no problems. I'd jump off the boat and go swimming if I could."
"This is like perfect conditions. You can't get better than this. And the views are amazing," said American windsurfer Pedro Pascual of Miami.
Conditions could change if it rains.
"There always have been problems here, Spanish windsurfer Ivan Pastor said. "It's a very large bay. There is a lot of current, rivers flowing into it and we've seen quite frequently a lot of trash floating; plastic, which is the worst."
Pastor said he's not afraid of swallowing the water.
"I've been here a lot and fallen and it hasn't been with my mouth closed," he said. "Knock wood. Nothing has happened. It looks very clean today. There have been other years here when it was really dirty."
Croatia's Tonci Stipanovic led the Laser class while China's Lijia Xu led the Laser Radial. Nick Dempsey of Great Britain and Charline Picon lead the windsurfer classes.