Catalina Yachts Rendezvous 2010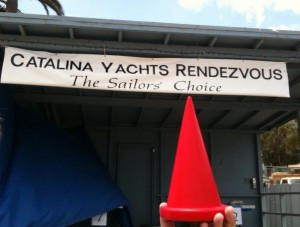 I found TruPlug at the Catalina Yachts Rendezvous at Two Harbors on Catalina Island last weekend!
I went over on the Catalina Express from San Pedro to Two Harbors on a cloudy morning. 0800 departure. Arrival at Two Harbors at 0915 was uneventful and the activites on shore for the Rendezvous were in full swing.  Gerry Douglas was meeting with the various fleets and Sharon Day was working with registration and event planners to make the entire event a success.
Mr. and Mrs. Butler were there to oversee the entire event and everyone was having a great time.  I presented a talk to consider Safety as a Mindset rather than a list of equipment.  Author, Richard Drechsler was the Friday Night keynote speaker on his voyages to Alasaka and Mexico aboard his Catalina equipped with a Forespar Leisure Furl. His book, "Manning Up in Alaska" is a good read!