"406MHz Beacon Awareness Day" – Monday, April 6, 2015: Win ACR Gear
Imagine you're well away from the coast, you don't even see land anymore on the GPS. Now, imagine that your boat is now taking on water, it's overwhelming the bilge pumps, and you're not getting radio reception, and there's no response to the flares.  What do you do?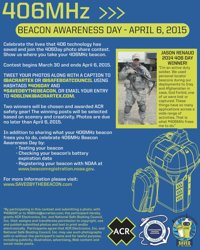 The EPIRB
You may never need it, but when you do, it is literally a lifesaver. That 460MHz beacon reaches one of many satellites, and pretty soon there's that big white helicopter with the big stripe on the side.
NOAA's fleet of weather satellites helped save 240 people last year from potentially life-threatening situations throughout the United States and its surrounding waters. NOAA's polar-orbiting and geostationary satellites can detect distress signals from emergency beacons carried by downed pilots, shipwrecked boaters, and stranded hikers.  Information captured from these satellites, including location, are then relayed to first responders on the ground who assist with search and rescue efforts.
Of the 240 rescues in 2014, 112 were waterborne rescues, 15 were from aviation incidents, and 113 were from events where small handheld devices called Personal Locator Beacons or PLBs were used. Other rescue highlights from 2014 include:
NOAA satellites are part of the international Search and Rescue Satellite Aided Tracking System, known as COSPAS-SARSAT. This system uses a network of spacecraft to detect and locate distress signals quickly from emergency beacons onboard aircraft and boats, and from PLBs.
Since 1982, COSPAS-SARSAT has been credited with supporting more than 37,000 rescues worldwide, including more than 7,492 in the United States and its surrounding waters.
The National Safe Boating Council's (NSBC) Saved by the Beacon campaign is designed to educate recreational boaters about the importance of 406 MHz beacons and how to use them correctly in the case of a boating emergency.
The Saved by the Beacon initiative will introduce the definition of EPIRBs (Emergency Position Indicating Radio Beacons) for boats versus PLBs (Personal Locator Beacons) for life jackets. NSBC will also compare the benefits of beacons to other commonly used mariner's communications devices such as VHF radios, GPS trackers and cell phones.
"406MHz Beacon Awareness Day" – Monday, April 6, 2015
Celebrate the lives that 406 technologies have saved and join the 406Day photo share contest. Show us where you take your 406MHz beacon. Tweet your photos along with a caption to @acrartex and @safeboatcouncil using hashtag #406Day, or email your entry to 406Link@acrartex.com.
Two winners will be chosen and awarded ACR safety gear! The winning posts will be selected based on scenery and creativity. Photos are due no later than April 6, 2015.
An understanding of the devices and their capabilities, illustrating the system capabilities, ensuring compliance and promoting NOAA registration supports efforts to compile the data and evaluate the success of the Saved by the Beacon message.
This campaign is being developed and operated throughout 2015. For details email rjohnson@safeboatingcouncil.org or call (703) 361-4294.
Pat Dwight
~ Forespar POV
"Sailing with a poled-out headsail and your main secured on a preventer on the other side is a very stable and comfortable setup for long distance downwind sailing, and it's how most cruisers cover stress free long miles" – Yachting World – December 2014
Any of us who've sailed a long downwind leg on a cruise usually chose efficiency and stability over extra speed, especially when short-handed – the usual situation on a cruise. So, we fall off and steer a little deeper off the wind, push the main out to leeward, push the headsail out to windward, and go.   Nothing new about that. It's just wing-and-wing – we're constantly careful about the main, and keep steering and trimming to keep the headsail full. That's a lot of work.
The stress-free way involves a whisker pole, running rigging we already have, a couple of blocks, and a couple of lines, and a couple of minutes.
First: Pole.
Most of us use extendable whisker poles, because the pole needs to be as long as the foot of the sail in use – and where do you store a 27 foot pole on a 36 foot boat? Forespar offers several types, ranging from twist-lock adjustables for small and medium boats, line control poles for varying length for sails with heavier loads, all the way to designs for use with asymmetrical spinnakers.
Setup is simple. The inboard end attaches to the ring on the spinnaker car, and outboard end to the sheet. Trim on the sheet, and sail away (See above).
For the larger poles, bigger sails or heavier air, we generally use a topping lift to stabilize the pole. It's also common to use the lazy sheet as a quasi-foreguy if the sea is bumpy, or the air is light (See Below).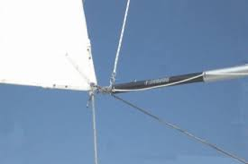 Second: Prevention.
We want to prevent the mainsail boom from an accidental jibe, caused by a wind shift, an errant wave or a steering error. When that boom sweeps across the cockpit in any breeze at all, it's hard on the equipment, and sometimes hard on the crew. So, we rig a preventer.
The old-school method is to run a line from the boom end forward (outside the lifelines) to a block attached well forward, usually on the toe rail. The line then runs aft to an unused winch or cleat. Between the mainsheet, vang, and preventer, the boom's position is steady and easily adjusted, and it won't come ripping across the boat.
A very effective preventer for lighter boats boats under 40 feet is the racers' expedient. Many of us use a separate boom vang rig, readily available at most sailing supply sellers. The snap shackle on one end attaches the bail on the boom – usually the one that's already there, and the other snaps onto the toe rail forward of the boom's position. Ten seconds on, five seconds off, easily adjustable.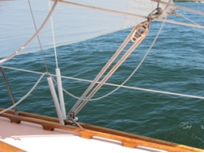 A long downwind leg becomes a lot easier, and a lot more stable with a pole and a preventer.   Easy to rig and trim, easy to stow, and easy on the crew. We've done it, a lot, and we like it, a lot.
Mike Dwight
Tom Cunliffe loathed in-boom reefing systems until he encountered a good one…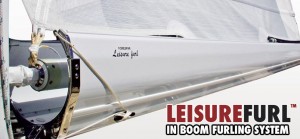 "Reefing and stowing are equally easy. It's a one–man job…my full-roach sail looks like a Spitfire's wing in the sunshine and cuts the gale cleanly in a blow." Tom Cunliffe is a British yachting journalist, author and broadcaster.
For more info about Tom, check out: www.tomcunliffe.com/about/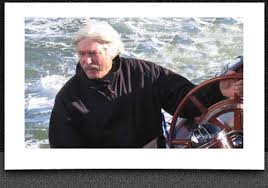 Respected Sailing World Spokesperson John Kretschmer Comments on Forespar's Whisker Poles
"For a cruising couple, the idea of flying a spinnaker day after day on a passage, is unrealistic.  Flat out, you need to be able to pole out a Genoa, which allows you keep sailing fast, even in squally weather, and the Forespar Whisker Pole is the best in the business. On a recent transatlantic, the pole was deployed 15 days during the 17 day passage.  Even with a full crew, we flew the spinnaker three days.  Do the math; the Forespar Whisker Pole is the key to trade wind sailing."
"Tom Cunliffe loathed in-boom reefing systems until he encountered a good one…"
"My latest yacht came with a retro-fit Leisure Furl™ in-boom reefing system…Three years and several thousand miles on I wouldn't change it for the world." Tom Cunliffe is a British yachting journalist, author and broadcaster.
For more info, check out: www.tomcunliffe.com/about/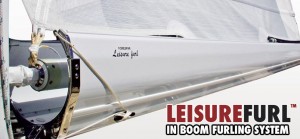 Known as the "Freedom Frigate", in 1781, the Hermione carried the Marquis de Lafayette to deliver news of France's participation in the American Revolution. The Marquis arrived in Yorktown aboard the vessel Hermione on March 14, 1781, where he played a key role in the naval blockade that led to the surrender of Cornwallis and the end of the American war later that year.
Fast forward to 1995, when a small group of French enthusiasts dreamed of reconstructing an exact replica of General Lafayette's 18th-century Hermione. The plan envisioned the Hermione sailing to the US – bringing to life a recreation of the voyage made by Lafayette and re-affirming the historic relationship between the US and France.
The vision now reality, the majestic Hermione was reconstructed in France using 18th Century shipbuilding techniques. The vessel is the largest and most authentic Tall Ship to be built in the last 150 years.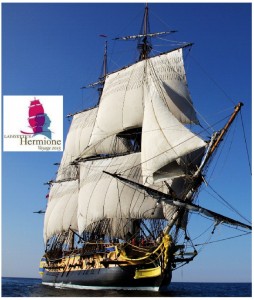 In the spirit of friendship and to celebrate France's important role in helping our nation's founding, the Hermione US journey begins in France on April 18, 2015 and will call on American ports during the summer.
The crossing is expected to take 27 days, before making landfall at Yorktown, VA. Crossing the Atlantic, Hermione's first voyage will begin in France from the mouth of the River Charente, in Port des Barques (where Lafayette first boarded on March 10th, 1780).
The 72-member French volunteer-crew makes its first stop in Virginia. The Hermione will then sail up the east coast – near Washington DC at Mt. Vernon and Alexandria, then on the Annapolis, Baltimore, Philadelphia, NY, Greenport, Newport, Boston – then leaving America, on to Castine, and Lunenberg/Halifax, Nova Scotia before heading back to France.
The Hermione Voyage 2015 is part of an outreach program with cultural events, exhibitions, and educational programs that celebrate the trip and mark its progress. Learn more about the Hermione American Journey: http://hermione2015.com/press/dec22.pdf
About Marquis de Lafayette
Christened "America's Adopted Son" Marquis de Lafayette became a true hero of America and was officially. The eager 19-year-old Lafayette sailed the original Hermione to America In the late 1700s. He immediately became a volunteer in the fight against the British, was commissioned Major General, and became a pivotal player in helping secure American Independence. Later wounded Lafayette returned to France, but remained a steadfast supporter of America. Returning to Boston on March 19, 1780, aboard the Hermione, Lafayette was greeted with a heroes' welcome with a 13-gun-salute. In 1781 Lafayette was dispatched to the Virginia frontline; the Hermione was sent to Philadelphia, where using stealth tactics, she assisted in fighting the British as part of the blockade that sealed the defeat of the British. In 1782 Lafayette left Washington to return to France.
Pat Dwight
Easy Downwind Reefing Using Forespar Leisure Furl – Lesson discussion by Alan Massey as he joins Forespar Leisure Furl Voyager Brian Murray on his Tartan 4700 sailboat.
Watch this Forespar Leisure Furl™ Downwind Sailing video and learn how easy and safe it is to reef on downwind sail.
Respected Sailing World Spokesperson John Kretschmer Comments on Forespar's Whisker Poles
"My Forespar 50/50 Whisker Pole is mounted on a mast track. It's simple to deploy and adjust, and I use it anytime I am sailing off the wind. It's the main reason why Quetzal always logs fast passages; I just don't accept sail slating or having to tack down wind."
Respected Sailing World Spokesperson John Kretschmer Comments on Forespar's Whisker Poles
"The ability to sail directly toward a downward mark, whether it is 20 miles or 2,000 miles away, is the key to fast and efficient passage making.  You need a whisker pole to make this happen. My Forespar 50/50 Whisker Pole has performed brilliantly in one ocean crossing after another.
Respected Sailing World Spokesperson John Kretschmer Comments on Forespar's Whisker Poles
"We all dream of trade wind sailing, without a whisker pole reaching day after day can turn into a sail slating nightmare. My Forespar Whisker Pole has logged many thousand miles, quietly keeping the Genoa drawing as the miles rush away below the keel."