Category Archives: Uncategorized
When was the last time you inspected your chainplates? Shrouds and tangs, of course, because they're easy to see, but the chainplates themselves.  If you take the time, and carefully inspect all parts of the rig, you can prevent failures – and losing the rig is at best a bad thing.
Many boat owners, especially those with newer boats, aren't real sure what a chainplate is, or how essential to the rig they are. Since they provide the foundation of the rig at the base of the shrouds and stays, they're often masked behind surfaces and seat backs.
They can be hidden or right out in view, as in these pictures from Ericson Yachts
Regardless, they bear huge loads, and are a common point of failure.  Remember, stainless is not permanent, and is subject to metal fatigue and corrosion, especially after about ten years. At that point, it becomes a very good idea to inspect the chainplates, fore and aft, side to side, when you're planning a cruise, and especially if you sail in heavy air or seas. We've all "replaced" our standing rigging without a thought to the chainplates.
Look at the photo above. When this happens, your rig gets very unhappy, and so will you.  Get down below and take a good hard look at those plates and straps.  Or better yet, ask your rigger or a surveyor for an inspection.  The worst thing that can happen is nothing, and that's good.
Mike Dwight
It sounds a lot more complicated than it is. All you need is:
• your usual genoa
• a second headsail
• a mast with two foresail halyards
• a whisker pole
Your destination is deep off the wind. The breeze is light to moderate, and you'd like to be moving faster, but either don't have a spinnaker aboard, or just don't want to wrestle with it. Wing-and-wing isn't working because your course isn't dead down wind, or you just don't want to deal with the constant trimming.  The usual solution is to come up on the wind, heat it up and get some boat speed, gybing your way to your mark. It's more work, but it can get you there faster if you plan your gybes well.
Or go with two headsails.
Get the other sail on deck (it doesn't matter if it's your jib, another genoa, or in light air an appropriate sail). You can rig a new, separate sheet for the windward side, or even detach the lazy sheet from the working sail, as long as you remember to re-attach it before any gybes. Get the free halyard and new sheet hooked up with plenty of slack, and the new sail tacked on. Make sure the pole is ready to go. (We use a Forespar twist-lock pole, which adjusts to the right length for whatever sail we're using).
Hoist the new windward sail, attach the pole as close to the sail clew as you can, adjust the pole length, and trim on. The rest is adjustment for the course and breeze. Then watch the boat go faster, especially in light air. You might even lower the mainsail, just go with the headsails.
You can go faster and deeper, with a lot less work. Ocean cruisers sometimes go hundreds of miles with a whisker pole – or even two headsails and two poles. Some races even allow double headsails (we've had great success in "inside" races using a light 155 genoa and our drifter).  Try it on light days when you've got room to work, adjust and trim. It's easy to do with two people, and requires a lot less muscle.
Go sailing. Have fun.
Mike Dwight
Rio Olympic Water Badly Polluted…Even Far Offshore
In July the AP reported that its first round of ocean water tests showed disease-causing viruses directly linked to human sewage at levels to be considered highly alarming in the U.S. or Europe. Experts said athletes were competing in the viral equivalent of raw sewage and exposure to dangerous health risks almost certain.
The story gets worse – the pollution and the IOC's passive reaction has caused World Sailing's president to resign!
In August, after pre-Olympic rowing and sailing events in Rio led to illnesses among athletes nearly double the acceptable limit in the U.S. for swimmers in recreational waters, sports officials pledged that the waters were safe for competition in next year's games. Since August water testing reveals more widely contamination than previously known. The number of viruses found over a kilometer from the shore in Guanabara Bay, where sailors compete at high speeds and get utterly drenched, are equal to those found along shorelines closer to sewage sources.
The Rio 2016 Olympic organizing committee said that "the health and safety of athletes is always a top priority and there is no doubt that water within the field of play meets the relevant standards." AP's testing in Rio, where the water often falls within safe fecal bacteria levels, but shows levels of viruses akin to raw sewage. Many of the testing points show spikes in bacterial contamination — especially in the Olympic lagoon and in the marina where sailors launch crafts. Rio's waterways, like those of many developing nations, are contaminated because most of the city's sewage is not treated and massive amounts of it flow straight into Guanabara Bay.
Rio won the right to host the Olympics based on a lengthy bid document that promised to clean up the city's scenic waterways by improving sewage sanitation; Brazilian officials now acknowledge that won't happen.
Athletes in Rio test events have tried many treatments to avoid falling ill, including bleaching rowing oars, hosing off their bodies the second they finish competing, and preemptively taking antibiotics — which have no effect on viruses. In August, athletes at a competition fell ill; The World Rowing Federation reported that 6.7 percent of 567 rowers got sick at a junior championships event in Rio. The U.S. Environmental Protection Agency's maximum illness rate for swimming is 3.6 percent — and many experts say that is too high.
Water quality experts say a virus count hitting 1,000 per liter in the U.S. or Europe would cause extreme alarm, leading in many cases to beach closures. Recent viral levels were all 30,000 times higher than the U.S. or European highly alarming levels at every of AP's new offshore sampling sites: at a point 600 meters (yards) offshore and within the Sugarloaf sailing race course; at 1,300 meters (yards) offshore within the Naval School sailing circuit; and at a spot inside the Olympic lagoon where rowing lanes are located, about 200 meters (yards) from shore.
In September tests at the Naval School race course and offshore lagoon points, the water tested positive for enterovirus, a major cause of respiratory illness, gastrointestinal ailments and, less often, serious heart and brain inflammation.
Risk assessment experts say that the sheer number of pathogens in Rio's waters means the risk to human health is unacceptable. Rio de Janeiro state authorities promised to complete sewerage infrastructure near the Marina da Gloria by the end of this year and are making progress. Authorities say Olympic venues will then be safe.
But the high levels of sewage-linked pathogens found in the offshore sailing courses pollution come from dozens of rivers that crisscross metropolitan Rio and dump millions of liters of raw sewage into the bay each day. By the government's own estimate, just half of the city's wastewater flowing into the bay is treated.
Sailors are concerned as are other venue participants. One American, himself a winner of two gold medals and one bronze swimming medals at the 1992 Barcelona Games, said if his daughter were a contender in Rio's open-water swimming competition, he would tell her not to compete. "A gold medal is not worth jeopardizing your health, and it doesn't appear at this point that the athletes are being considered first." RIO DE JANEIRO (AP-Brad Brooks). This is a dilemma Olympians don't need to be worried about. POV Pat Dwight
"My Forespar 50/50 Whisker Pole is a workhorse, no other piece of equipment on Quetzal is more useful for efficient off the wind sailing. I would not go to sea without it."
Marelon® is a proprietary formulation of polymer composite compounds used to produce superior marine-grade products for above and below the waterline.
Created specifically for precision molded plumbing systems, Marelon® offers complete freedom from corrosion and the ravages of electrolysis.
At least half the weight of their bronze counterparts, Marelon® plumbing components provide strength, light weight and internationally approved underwater systems that provide years of trouble-free, corrosion-free and electrolysis-free use.
Routine lubrication of marine seacocks (Marelon®, bronze or stainless steel on all valves) in any boat is vital for their prolonged life and ease of operation.
If ball seals are allowed to dry out, you will experience increased drag caused by marine growth which scores the seals and ultimately leads to leaks, difficulty in operation and/or blockage – potentially harming the equipment they serve.
 Lubricating a Marelon® Valve with the Boat Hauled
Open valve, to drain any residual water, then close valve and remove the hose from the TOP of the hose line connection. On drains or other easily accessible thru-hull/valve hose lines, you may not need to remove the hose. During this step, it's wise to check for worn hose and rusty hose clamps.
Outside of the hull have a second person use a bucket to catch the run-off MareLube™ Liquid as the valve is opened and closed. Catch the lube as it runs through the line for re-use on the next line. Be sure you are under the correct thru-hull before starting!
Repeat the process on all the thru-hull/valve hose lines. MareLube™ Liquid is not harmful to the environment so don't worry if some splashes.
This process requires two people.
This procedure is easy and should be done at the beginning of the dry storage season and again before launch. The MareLube™ liquid will leave a PTFE coating throughout the line and help keep hoses clean.
Accessibility to all valves is important and essential for the safety of the vessel should disaster strike. Any marine valve regardless of material, if not activated periodically, will seize, have marine growth build up inside and be rendered inoperable due to neglect.
It is strongly recommended to be particularly watchful of those hard-to-reach valves and find a way to reach them, since regular activating, servicing or closing them in an emergency is important.
Forespar® provides Marelon® plumbing systems to the world's top boat builders and continues to develop modern alternatives to age old heavy bronze fittings. We are the only manufacturer to offer motorized Marelon® seacocks (ROV systems) that meet and exceed all Marine U.L., ABYC and ISO standards.
Forespar® has products to answer every boaters needs! To learn more, visit http://www.forespar.com/what-is-marelon.shtml.
POV Pat Dwight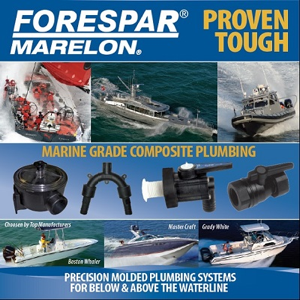 2015 Blind National Sailing Championship Event Scheduled Sept. 12-13 in Newport RI
While the 2015 Blind National Sailing Championship won't take place until September in Newport RI, last year's 2014 blind sailing championship regatta was a fabulous event.  The 2014 regatta provided two days of great racing between Rose and Goat islands with fierce competition between seven teams over 12 races.
Congratulations to Duane Farrar, Solomon Marini, Denis Bell and Amy Bower for winning and being named the 2014 Blind National Champions.
Sail Newport will be hosting the 2015 Blind National Championships this coming September.  For details contact Sail Newport's Regatta Manager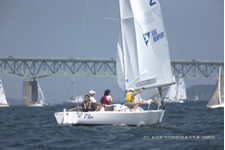 Pat Dwight
~Forespar POV
The Florida Marine Patrol bagged Scott recently.  It was like a simple traffic stop, only on the water.
About 9:30 p.m. Scott was making his nightly six-minute dinghy trek across the harbor back to his boat.  He had dutifully stuck a little red/green split flashlight up on the front of his rubber inflatable.  However, to the Marine Patrol approaching from the rear it appeared Scott was running without any lights at all.  Technically, in addition to the red/green light shining forward, he should have had a white light visible from the rear; either that or a single 3600 light on the boat's highest point. He knew of this regulation, but didn't believe anyone would be that nit-picky.  Acknowledging that the forward lights showed at least an attempt to comply, the patrol sent Scott on his way with a warning.
The following night he repeated his daily trek armed with a bright white suction mount 3600 flashlight.  This new light was so bright it ruined Scott's night vision.  So, he proceeded to hold it high above his head and ventured legally across the harbor. Quickly his arm got tired so he tried sticking it to the dinghy, but being lower than the motor and his torso, the required 3600 coverage was blocked from several angles.
Scott had a brilliant idea – there is an advantage to being bald.  It was dark enough that from land no one could see how odd this may have seemed. Scott wet the inside of the light's suction cup and squished it down upon his skinhead.  Perfect.  Scott now had both hands free, the light was well above everything on the boat, and his night vision was unaffected; he forgot the light was on.
Later, reaching to his head, Scott grabbed the flashlight in hopes of removing it. He tugged, but the light didn't budge.  He tried prying it off at an angle; it didn't budge. Raising one edge of the rubber lip; it didn't budge.
Finally with a loud pop the light came off. According to Scott, the top of his head felt like a can of ravioli, for the suction cup had drawn up his scalp in circular ridges that held their shape.
Undaunted he headed to the shower where he noticed that there was something on the top of his head. When he looked in the mirror, he saw directly in the middle of my head the world's largest, world's most perfect, most crimson hickey.
-Pat Dwight (Forespar POV)

Several times during the past 10 years, friends asked us if we would use our 42' Grand Banks for a sea burial of a recently deceased loved one. We naturally said yes. Though two of those events were far apart in time, there was an event on both that left me with a sense of awe and disbelief.
Off the Southern California coast about three miles out, we stopped engines and turned the deck over to the family and friends to move through the service of their deceased loved one and say their final goodbyes.
In both services, the ashes were spread from the transom by the designated family member. Watching the ashes swirling in the water was surprising and fascinating, since the particles turn a beautiful fluorescent silver float near the surface for an extended time. Along with flowers also tossed in the water, the effect was moving.
Here is where the hummingbird enters the story. After the ashes were dispersed, in both services the group aboard Enchanter was joined by a beautiful hummingbird. Mind you we are three miles out at sea and there were no other boats in sight. Remarkably, the hummingbird didn't just fly randomly around our boat. It purposefully flew up to the family members and guests – up close to their faces – hovering for a few moments and then moving to the next person.
Whether you are religious or believe in things mystical, the effect of this tiny bird apparently communicating in such a lovely way was remarkable and something I'll never forget.
Since then I've asked fellow boaters if they had ever experienced this when participating in a burial at sea. A few said, "Oh yes," and others mentioned that they had been visited by seals, who stopped their forward drive to stay near the boat for a spell.
Whatever the explanation might be, the experience was truly special. Today I see hummingbirds in a completely different way.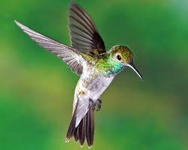 Pat Dwight
~ Forespar POV
Yup, you read it right. In September 2014, Intrepid Powerboats announced a new natural gas hybrid fuel system technology. The new fuel system is already being used by commercial fishermen, charter boats, ferries, tugs, as well as larger ships, the military and recreational users.
Boaters can save as much as 50 percent on fuel immediately by making the change; these savings directly impact high-fuel-usage boaters, many of whom rely on their boat for business.  In many cases, the fuel savings recover the cost of the fuel system in one year for frequent boaters.
Performance of natural gas on a boat is the same or better than with its original fuel, with the added benefit that natural gas emissions are 90 percent cleaner (green alternative fuel) than diesel and 70 percent cleaner than gasoline and do not produce any exhaust odor or smoke.
This will become more important in the next few years when regulatory requirements for emissions are expected to be a lot more stringent.
Pat Dwight
~ Forespar POV
In February, 2015, US Sailing and AmericaOne announced a very exciting initiative, called Project Pipeline.  I want to give you a little personal perspective on the initiative and pass along the link to the press release.
AmericaOne is a long time supporter of the US Olympic Sailing Team. Bob "Buddah" Billingham was a passionate Olympian, a Silver medalist, and A1's representative who initiated this support and oversaw it. He served on the US Olympic Sailing Committee Board for many years.
Bob was excellent at identifying a need and then recruiting the support to make it happen. We all know that not only did Bob have great ideas, he would get them done!
Bob's last target for improving US Olympic sailing was identifying our deficiency in the development of young sailors. As Bob's cancer worsened, he asked me to take his place in working with the US Olympic Sailing Team on this important project.   Sadly, Bob passed away last March.
In the last year, we have developed a plan to increase training, support and opportunity for the youth of America.  Project Pipeline is about getting America back on the Olympic podium but also about raising the level of sailing talent in the US across the board.
US Sailing and AmericaOne are proud to launch this Project. The AmericaOne grant of $5M means Project Pipeline will be initiated immediately. It is our expectation that over the next 10 years, Project Pipeline will grow in breadth and depth, and that others will join in and support this worthy cause.
"The top winning nations in sailing share the common trait of a well-formed talent development system," said Josh Adams, Managing Director of US Olympic Sailing. "This is critical to sustainable success in Olympic sailing. With the extraordinary commitment of $5 million from the AmericaOne Foundation, we are in a position to launch a long-term initiative that will transform the way top young sailors train in the US."
Targeting the best American youth talent, Project Pipeline is the strategy behind a new-look Olympic Development Program, which aims to better serve young sailors, lead them into high-performance boats earlier in their development, and build well-rounded sailors with complete skill sets. Providing training/racing opportunities with world-class coaching and the highest level of technical standards are the core principles of the initiative.
– Paul Cayard, Director, AmericaOne Foundation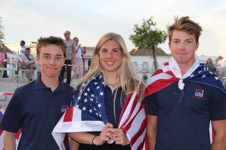 Pat Dwight ~ Forespar POV
Next page →
← Previous page