Overboard at Night – Newport to Ensenada Race
A Farr 40 was doing about 15 knots downwind in a 20-knot breeze. It was Friday night about 8pm, after the noon start, and they were just off the Coronado Islands. Good breeze, good speed. and about halfway down the course. Great N2E race so far.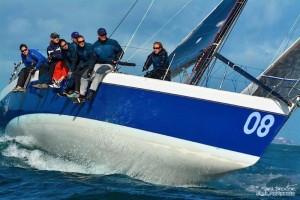 Large wave slaps the stern, causing an ugly round down. One of the crew slip under the lifeline and into the sea. No harness, no leash, and no PFD or light on him or four of the other five crew. On top of that, he broke his arm badly on the way over the side.
The only crew wearing a PFD grabs the tiller, and she gets the boat back up.  About 500 yards later, they've got the boat back under control and the kite back in the boat. They get the engine started, and head back upwind in 20+ knots and fairly big waves looking for their lost guy.
They found him.
Why? They did some things right. While one sailor launched the Man Overboard gear, another kept pointing at the spot where he hit the water. The MOB pole was lighted, and a float was part of that gear.  And they launched it in a timely manner, enabling the swimmer to get to it under difficult (to say the least) conditions.  After wrestling with an injured sailor (a 200-pound man, with one usable arm, wearing wet foulies) and the Life Sling, they got him aboard.  And, yes, the Coast Guard helo did show, but it was easier to abandon the race and get him to San Diego than deal with an air rescue off a sailboat in the wind and sea conditions.
When was the last time we heard about someone going over the side under those circumstances, and being found, much less alive?  Kudos to the Foil crew for reacting well in a bad situation.
I'm serious about that kind of safety – jack lines, harnesses, etc. The crew on my boat get a little peeved when I insist on all that stuff after dark, especially when it's bumpy out there.  Wear it, and rig it.  And make sure you've got good MOB gear and know how use it. You may never need it, and let's hope that's the case, but when you do, it saves a life!
Mike Dwight