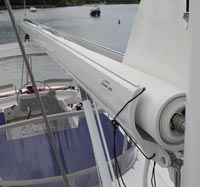 Leisure Furl™ is pleased to announce the launch of its long-anticipated website. Serving offshore and coastal sailors for many years, Leisure Furl™ is today the worldwide leader of in-boom mainsail reefing and furling systems. http://www.leisurefurl.com/
Whether rigged on monohull or multihull, Leisure Furl™ delivers simplicity and ease of use, and unmatched reliability proven on all types of boats, and hundreds of thousands of nautical miles.
Engineered specifically for your boat, Leisure Furl™ offers eight unique models and a multi-factor design program that assures your system will be exactly right for your boat. Available in aluminum or carbon fiber, each boom can be customized with a variety of finishes and power systems.
Pat Dwight
Forespar offers a variety of options to storing your whisker pole or spinnaker pole. The traditional method of storage is to keep your pole on the deck using deck chocks. This storage method is highly recommended for sailing in heavy weather. The chocks are made from Marelon, making them durable and rugged, and use a "snag-proof" low profile design. These chocks are secured to the deck, usually near the bow and next to or clamped to a lifeline stanchion. This keeps the pole secured and out of the way, and at the same time easily accessible.
POV – Mike Dwight
WINTERIZED
Well of course you are. Even SoCal boaters should winterize some systems by sealing and waterproofing and covering against the rainy season.
But if you live in the rest of the world, where there actually is winter, and temperatures fall below freezing, there are a couple of hints, one large and one small:
First, Marelon® plumbing systems from Forespar© don't require winterizing like bronze does. Marelon won't freeze and crack. The small amount of water trapped in the ball valves won't expand enough to cause damage, as the dynamic seals can hold up to the small expansion. So, while you're in there in the spring, if you find a suspect valve and/or pipe section, replace it with Marelon. For operation and winterizing purposes, it's much better than our old school bronze.
Second, if you're using anti-freeze for any purposes try not to use ethylene glycol-based anti-freeze. It is not environmentally or human health friendly. Try to find virgin propylene glycol blend product (there are a couple of major brands) made for marine purposes. They will give you excellent cold weather and corrosion protection for your drinking water systems and engines, without the potentially toxic side effects. And with an additive, the propylene glycol version will prevent corrosion of aluminum and copper pipe, brass and solder, and will not harm rubber and other seals, or hoses.
It is usually fashionably pink – giving excellent blow-through visibility. And, it will not harm the water strainers and lids from Forespar and other manufacturers.
Hope this helps a little in waters where snow and ice are the norm. Both are still good ideas for year-round boaters too.
POV  – Mike Dwight
The obvious benefit is the ability to hoist your inflatable dinghy up on the swimstep while it's inflated. That way, you're not fighting to unroll, inflate and float the dinghy using the limited deck space on a small to medium sized boat, and then reverse the process. Often, that means you're spending as much time setting up the supposedly convenient dinghy as you did on the voyage.
Plan B is to tow the dinghy. For a longer trip, especially at sea, this can be an adventure of its own. Speed, tow distance from the boat, cleats (often not designed for those loads) and tow lines and yokes can be a real pain. We haven't even mentioned the motor, gas can and cargo.
With the swimstep davit system, you can simply bring the dinghy alongside, clip it on and tilt/hoist it in. A side and actually major benefit is overnight stays. By clipping the dinghy into the Davit, we can be sure that it sits quiet in the water. There's no banging on the hull, drifting into the fairway, worrying about the painter, etc. Easy passenger boarding from the swimstep, and easy back onto the boat.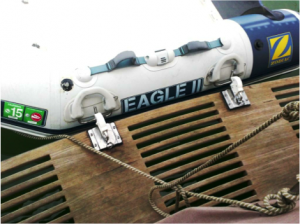 We're using the Forespar QuikDavit ™version on two boats. One on the Grand Banks, used for hoisting and parking the smaller dinghy, and with the mounting pads the same distance apart for docking the bigger Caribe.
The Wellcraft uses the full QuikDavit kit as designed. It is easy for Pat (the real Skipper) to use, and was easy to install on both the wood step and the thicker step on the smaller boat. It makes for a much more pleasant cruise, and has proven to be well worth the money.
POV – Mike Dwight –
"My Forespar 50/50 Whisker Pole is a workhorse, no other piece of equipment on Quetzal is more useful for efficient off the wind sailing. I would not go to sea without it."
There's a place for rock and roll and it's not on an anchored boat.
Salt water boaters often find themselves anchored or on a mooring. There's a swell, a surge from the swell or just enough breeze to create some waves, all just enough to rock the boat. That rock can be strong enough to be uncomfortable. It is hard to sleep with a grip on the mattress, and an evening on the deck or in the cockpit isn't very comfortable.
A flopper stopper is the solution. I've tried several types over the years, and settled on one that works across the board – the Roll-X™ from Forespar. The same system has dampened the roll quite well on my power boats (a Grand Banks 42 and a 28' Wellcraft) and my sail boats (a Baltic 52, and a Soverel 33), as well as other vessels.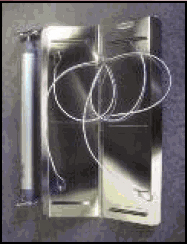 The Roll-X stabilizer consists of two stainless plates, about 12.5 by 40 inches, hinged together, and supported by a single line attached to a basic harness. It works simply. On the down roll, the unit folds together on the hinges, and drops deeper. On the up roll it unfolds, creating about seven square feet of resistance – sufficient to dampen a dramatic roll, completely quash a smaller wake or wind wave. And, the Roll-X has winglets to minimize the "skate" fore and aft while down, making the ride even more.
Roll-X stabilizer is most efficient when used with a pole to increase the leverage (one comes with the kit). You can see how on the trawler below.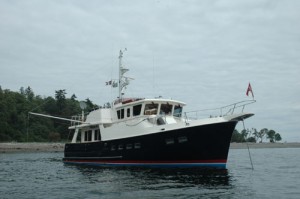 Many sailors use the poles they've already got – spinnaker pole, a heavy whisker pole and often the boom. Swing it out on a halyard or topping lift, and couple of lines for guys and the crew is going enjoy a lot more stable time at anchor.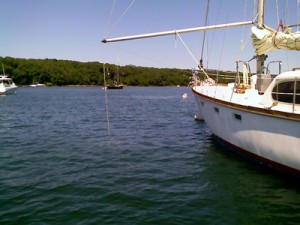 Candidly, the Roll-X stabilizer works pretty well as a flopper stopper with no poles, although using two (one on each side) helps make up for the lack of leverage. They are simply lowered over the side, down six or eight feet, and made fast to the cleats nearest the beam of the boat. Yes, we were in a hurry, or just too lazy to rig properly. They do work better poled out, and you must be sure to hoist the stabilizers in before weighing anchor and sailing away.
You can be sure that you'll be well rested because you've experienced a lot less rock and roll.
Mike Dwight
The PB50 from Palm Beach Motor Yachts in Australia captured honors as the Best New Powerboat at the Newport (R.I.) International Boat Show.  The selections were made as part of the Show's Newport For New Products program and recognize the best boats and the best product being introduced at the Show for the coming model year.
The PB 50 – chosen Best New Powerboat –was judged to have an "elegance of proportion and design" that is "sensational". A big boat that delivers performance and fuel economy with its lightweight composite material construction, the judges were just as impressed with its excellent fit and finish.
For more information on winners visit Trade Only Today
Palm Beach Motor Yachts use Forespar Plumbing Products.
Visit the Palm Beach Motor Yachts Website