Hunt Made Us Go Faster
C. Raymond Hunt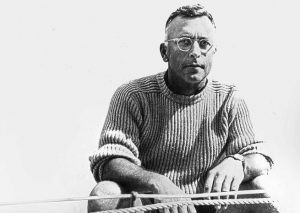 had one of the most significant impacts on modern boating, right up there with Ole Evinrude and Olin Stephens.
Hunt was the naval architect credited with designing the first deep-vee hull(s).  He started working with sailboat and lobster boat designs in the 1930's in Massachusetts, and experimenting with deeper deadrise hulls for powerboats in the 40's.  That led to the revolution in powerboats, with deep-vee designs creating boats that knife through the water rather than sliding over it, with faster smoother and much more seaworthy rides, especially offshore.  In 1960, Hunt designed and Bertram built Moppie, a 31-foot boat based on a tender Hunt made himself, and used to win the famous Miami to Nassau Race.  That became the Bertram 31, a version of which is still in production.
And, it wasn't just Bertram.  Hunt designed the original 13-foot Boston Whaler. in 1957.  C. Raymond Hunt & Associates designed and engineered small boats, big boats, racers and trawlers for many builders, including Chris-Craft, Grady-White, Grand Banks and more than a few others.
So, next time you're powering along offshore, thank Raymond Hunt.  He's why your boat is fast, smooth and stable.