Waterways – Travel Responsibly
We've all seen, and probably done, not-so-bright things when traveling from Point A to Point B in a boat.
A couple of years ago, we were idling along a mile offshore, headed for Catalina, getting fishing rigs ready and testing systems. Visibility was down to under 200 yards, we were about a half-mile to the west of the "freeway". We hear an engine roaring, and a close blip appears on the radar. We ring the bell just in case.
Sure enough, a family in 20+ foot bow-rider boat appears, with the driver waving. We stop, he comes along side. Pointing into the fog, he yells, "Which way to Catalina?" He's already lost.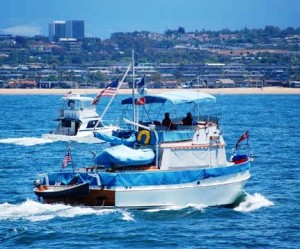 It's a fairly big island, with the long axis parallel to the cost making it easy to see on a clear day. The island is 26 miles away, so there's a lot of water, almost always a swell, and a major shipping channel to cross. It can get fairly ugly in the middle of the channel, and sea and the current generally will set you off a few degrees to your left (East). If you are headed for Avalon – the town and primary harbor – with inadequate navigation, it's not that hard to miss the island entirely.
This boater was headed to sea, with no GPS, no chart, and a compass and a radio he didn't know how to use. I strongly suggested that he go back and not further endanger his family, and offered to lead them to the harbor entrance. His wife insisted strongly that he comply – you can imagine that conversation – and we led them back to the harbor.
The point here is responsibility. Having the keys to boat and taking the helm makes you responsible for all souls on board, whether it's on the ocean, the river or the lake.
Know where you're going and how to get there. Have and know how to use basic navigation and safety equipment. Have a grasp of the hazards – wet, dry or breathing – that you may encounter. Save the beer for later. Before you turn the key or hoist the sail, remember that the welfare of you family, crew and passengers is in your hands.
You're responsible.
~ Mike Dwight