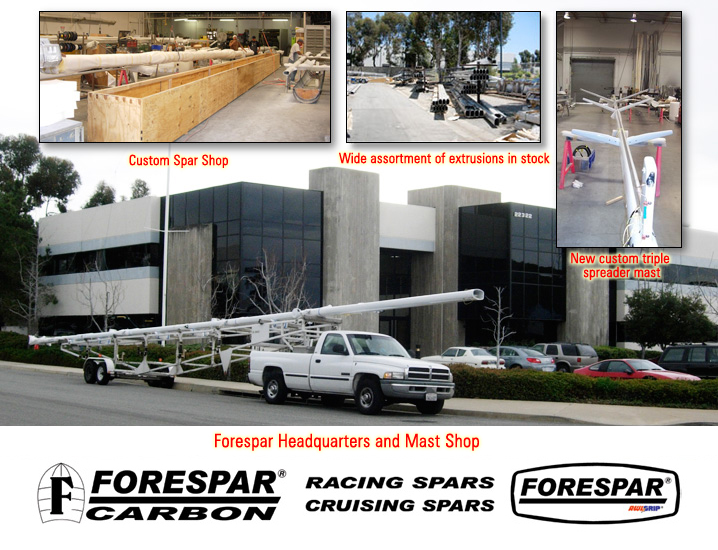 Forespar builds masts. Extruded and Carbon. Racing and Cruising.
When one considers an off shore passage or a major coastal cruise, there are usually some questions bout the rig. The reliability, function and integrity of the rig should not be among those concerns, yet the mast is one of the the most overlooked pieces of gear on the boat.
Offshore, heavy weather reliability along with a very high standard of finish, set Forespar spars apart from the ordinary, and are the reasons serious sailors and leading builders come to Forespar. Each mast and rig project is conceived, designed, engineered and crafted one at a time by a team of experienced andconscientious professionals.
Specializing in rigs for boats 40-80'loa, we look at each mast with a focus on the owner's specific needs and the integration of the total boat system. For example, our masts and our Leisurefurl™ booms are the core of a modern offshore rig. Forespar mast owners have circumnavigated or made very long passages.
Mast projects include a Hinckley 59', Sundeer 64', Hylas 70', 12 meter replacement mast, Nordhavn 56' and a Taswell 58'.
It will be a pleasure to work with you on your next project. And remember, We ship world wide.
Tom Peelen
Spars and Leisure Furl Booms Sales Manager
tomp@forespar.com
T: 949.858.8820