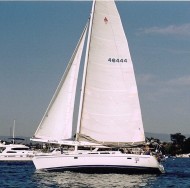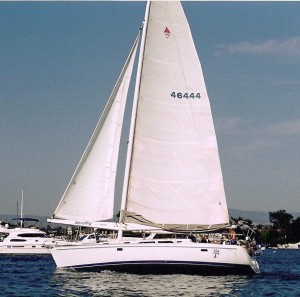 Bob Foresman, Forespar's founder, never stopped innovating and testing sailing concepts – a company premise that continues today, 50 years later.  From the original telescoping whisker poles made in the garage to today's carbon fiber poles, furling systems and the rest of a catalog of boating products from the modern plant, the family continues to experiment, produce and sell new products.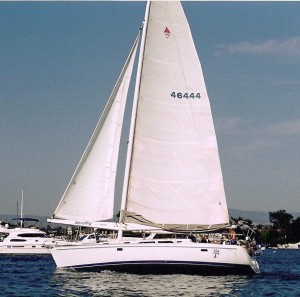 A classic example is Fore Sail, the Foresman's Catalina 400.  Working with Catalina Yachts, Forespar developed Fore Sail as a test bed for a Forespar-built Aero Rig, with an eye toward a Catalina production model.  While this ultimately proved impractical because of market conditions, an easy-to-sail (and single hand) 40-foot cruiser with a very different rig drew a lot of attention in the early 90's.  Shown here with Art Bandy, now the Forespar OEM Sales Manager, at the helm and strings tacking up the Newport Beach Lido Channel.
It sounds a lot more complicated than it is. All you need is:
• your usual genoa
• a second headsail
• a mast with two foresail halyards
• a whisker pole
Your destination is deep off the wind. The breeze is light to moderate, and you'd like to be moving faster, but either don't have a spinnaker aboard, or just don't want to wrestle with it. Wing-and-wing isn't working because your course isn't dead down wind, or you just don't want to deal with the constant trimming.  The usual solution is to come up on the wind, heat it up and get some boat speed, gybing your way to your mark. It's more work, but it can get you there faster if you plan your gybes well.
Or go with two headsails.
Get the other sail on deck (it doesn't matter if it's your jib, another genoa, or in light air an appropriate sail). You can rig a new, separate sheet for the windward side, or even detach the lazy sheet from the working sail, as long as you remember to re-attach it before any gybes. Get the free halyard and new sheet hooked up with plenty of slack, and the new sail tacked on. Make sure the pole is ready to go. (We use a Forespar twist-lock pole, which adjusts to the right length for whatever sail we're using).
Hoist the new windward sail, attach the pole as close to the sail clew as you can, adjust the pole length, and trim on. The rest is adjustment for the course and breeze. Then watch the boat go faster, especially in light air. You might even lower the mainsail, just go with the headsails.
You can go faster and deeper, with a lot less work. Ocean cruisers sometimes go hundreds of miles with a whisker pole – or even two headsails and two poles. Some races even allow double headsails (we've had great success in "inside" races using a light 155 genoa and our drifter).  Try it on light days when you've got room to work, adjust and trim. It's easy to do with two people, and requires a lot less muscle.
Go sailing. Have fun.
Mike Dwight
First – what's a big wave? Is it the 100-foot wave from The Perfect Storm"? Could it be the waves from a TV show called Bering Sea Gold, when they tell us there's a storm, and it looks like all of 12 knots of breeze and two-foot chop?
The answer is yes. Any wave that makes you feel that you and your boat are in danger is a big wave. All that matters is that the waves are challenging you, and you're nervous about handling them safely. There are some basic rules that can help:
First -If conditions scare you, don't go out. Getting macho can get you and your passengers in deep trouble. Getting back on Monday morning isn't worth risking the safety and sanity of your crew.
The classic example is the trip back home from Catalina Island. You left the mainland early on Saturday, and it was flat with no wind, so you zoomed over (zoom speed is relative – maybe six knots from the Yanmar in the sailboat, and 30 knots from the twin Volvos in the cruiser). You leave for home on Sunday afternoon, and there 32 knots of breeze pushing some healthy wind waves along with a big swell rolling down the channel, and you've got 20 to 30 miles to go with that on your beam or under your quarter.
You are relatively inexperienced, but you'll probably make it. You'll beat up the boat, and scare the pants off your crew and yourself in the process. The crew may never get on the boat again. Or, you are experienced, and you'll make it. You'll wear yourself and the crew out, and the boat won't be real happy either.
 Second- There's no better teacher than experience, but try to gain that experience with an old hand aboard to help you learn. Often the difference between the emotion "We're gonna die" and the comment "That was a big one" is usually perception and a twitch on the helm.
If you are next to the helm on one of those days, and the driver is calm and under control, it's amazing how much you can learn just watching and listening. Then when you trade places and you've got the helm, a calm voice in your ear, coupled with the positive results, can help you learn a lot, and apply it at the same time. Then you gain the confidence to try it yourself.
Third – Practice. When you go out, and it's lumpy, take some time to drive the boat both uphill (into the wind and waves) and downhill (away from the wind and waves). Learn what make the boat feel and respond best under current conditions. You check the weather, then look out the harbor entrance. If you see other boats of your type in the vicinity, go out and play. Practice going into the wind, downwind, into the waves and away from them.
Going into the waves, while often scarier, is easier on the boat and the driver when you do it right.
Don't worry about your specific destination – as long as you're making up distance to the mark (technically VMG – Velocity Made Good), you're doing well. If you steer at an angle somewhere between 20 ⁰ and 45⁰ off the face of the wave, the boat is a lot more comfortable, and is actually faster than heading straight into the sea. You don't get the big flying spray, and you don't get the big pounding crash, either. And, you'll be under control.
Not steering at your mark seems counter-intuitive, but any racing sailor can tell you that it works.
That's nice, you're thinking, but at some point I have to make up for that angle away from the harbor mouth. You're right. You do. If you're paying attention, you'll find a periodic flatter spot between waves that will allow you to make the turn (tack) without wrestling the boat over a bigger wave.
Heading downhill requires more touch, and more attention to your helm. The basic design of most powerboat hulls has a broad, usually flat, surface for the following wave to push on, along with a more or less square corner (the quarter). This means that when that big wave comes at the stern, it lifts the stern while pushing on that flat surface. The combination of shapes and forces make the stern want to go to the side, and the boat wanting to turn parallel to the wave's face, tilting away from the rising wave. This can make for some interesting or even dangerous moments. Sailboats do the same, but with a less exaggerated motion.
With some practice, you can learn to anticipate your boat's tendencies, and start steering up the face and down the backs of oncoming waves, into the direction that swinging stern takes (It's called "Yaw") on following seas.
Fourth – Watch Your Speed. If you pay close attention to your boat speed relative to the waves, and adjust accordingly, you'll find the sweet spot. Wind waves are usually moving at speeds from 13 to 18 knots, so you want to work around that basic datum. If you're steering into the waves, and in a hurry with 15 knots of boat speed, you're meeting big walls of water at 30 knots (just under 35 mph). The air is getting under your hull, and you're flying a bit. That is a lot of energy your boat has to absorb when you hit the next wave. A lot of wear and tear on the boat and the bodies aboard.
When steering off the wind, some of the math works for you. If the waves are moving at 13 knots, and you throttle back to about 13 knots, keeping the bow down enough to increase your waterline (hence control and comfort), you'll find that steering the boat and managing the course is a great deal easier. The waves are coming at you a lot slower, and you have much more time to make your adjustments to steer a comfortable and productive course. With some practice, you'll find yourself actually surfing the boat.
Think safe, learn well, practice and slow down. Your boat, your backs and your butts will be much happier.
Mike Dwight
Q: What is required to install my Hoyt Boom System?
A: When installing the Hoyt boom, a backing plate is recommended for structural support, which Forespar® does not manufacture. The backing plate must be the same diameter as the pedestal and should be of sufficient thickness to help spread the fastener load. The backing plate can be made of teak, aluminum, stainless steel or hard plastic such as ABS or Nylon. The pedestal can be installed more than 10 feet aft of the J length. If this is done, your jib will most likely need to be re-cut. Make sure the Hoyt boom is installed before you have a sail maker adjust your jib.
The boom needs to be installed so that the pedestal is level. Forespar® sells shims that adjust the pedestal up to a 6o angle. If your deck is angled more than 6o you will have to have custom shims made. It is recommended that a professional rigger install your Hoyt boom to maintain structural integrity. Detailed instructions for installation can be found at http://www.Forespar.com/products/sail-hoyt-jib-boom-system.shtml.
If you have any further questions or need replacement parts, please contact us at sales@forespar.com. 
Q: What size Hoyt Boom should I buy for my boat?
A: Deciding what size Hoyt boom to buy is dependent on overall boat length and J dimensions. Model 250 is recommended for boat lengths 25'-29', Model 300 is for boats 30'-35' and Model 350 is for boats 35'-42'. More details about choosing the right size can be found here Hoyt Jib Boom.
If you have any further questions or need replacement parts, please contact us at sales@forespar.com. 
 Q: What are the advantages of a Hoyt Boom?
A: The Hoyt Boom system is a forward boom for your jib that allows for self-tacking. This is a great benefit for short-handed crews and cruisers because it reduces overall workload. Additionally, the Hoyt boom allows for greater trimming ability due to the fact that the outhaul can be adjusted, giving you more control over the leech, and allowing you to control the twist of the jib as you fall off wind, and thus maintaining sail efficiency. When sailing down wind, the Hoyt boom can be used as a whisker pole to hold the jib out, improving speed and handling characteristics.
If you have any further questions or need replacement parts, please contact us at sales@forespar.com. 
Q: Can I buy LED replacement bulbs for the ML-2 Combination Bow and Foredeck Light?
A: The ML-2 combination bow and foredeck light comes with standard light bulbs. There is the option buy the ML-2 with LED bulbs. Additionally, the ML-1 deck light can be ordered with a LED bulb. Replacement LED bulbs for both the ML-1 and ML-2 are available.
If you have any further questions or need replacement parts, please contact us at sales@forespar.com. 
Q: How do I properly maintain my spinnaker pole when stored on the mast?
A: The spinnaker pole needs to be removed from the inboard mast fitting two or three times a year. When you remove the pole, clean out any salt build-up on the aluminum end fitting and stainless steel mast car toggle using fresh water or vinegar.
If the end fitting is stuck to the mast car toggle, remove the track-end stop and take the spinnaker pole off the track. Place the end fitting and mast car in a bucket of vinegar and let sit for a week. If this does not work, use a hand-held propane torch to heat the aluminum end fitting, which will allow it to expand and slide off the toggle car. Please take care when using the propane torch!
If you have any further questions or need replacement parts, please contact us at sales@forespar.com. 
Q: How do I properly maintain my whisker pole?
A:  Only fresh water should be used to clean your whisker pole. Never use a lubricant as this will cause the rubber liners to swell and lock and not allow you to adjust the length of your pole. To help maintain the condition of your pole, store inside your boat whenever possible.
Replacement parts are available here http://www.Forespar.com/products/sail-pole-lock-repair-kit.shtml.
If you have any further questions or need replacement parts, please contact us at sales@forespar.com.