Respected Sailing World Spokesperson John Kretschmer Comments on Forespar's Whisker Poles
"My Forespar 50/50 Whisker Pole is mounted on a mast track. It's simple to deploy and adjust, and I use it anytime I am sailing off the wind. It's the main reason why Quetzal always logs fast passages; I just don't accept sail slating or having to tack down wind."
Respected Sailing World Spokesperson John Kretschmer Comments on Forespar's Whisker Poles
"The ability to sail directly toward a downward mark, whether it is 20 miles or 2,000 miles away, is the key to fast and efficient passage making.  You need a whisker pole to make this happen. My Forespar 50/50 Whisker Pole has performed brilliantly in one ocean crossing after another.
Respected Sailing World Spokesperson John Kretschmer Comments on Forespar's Whisker Poles
"We all dream of trade wind sailing, without a whisker pole reaching day after day can turn into a sail slating nightmare. My Forespar Whisker Pole has logged many thousand miles, quietly keeping the Genoa drawing as the miles rush away below the keel."
Respected Sailing World Spokesperson John Kretschmer Comments on Forespar's Whisker Poles
"My Forespar 50/50 Whisker Pole is a workhorse, no other piece of equipment on Quetzal is more useful for efficient off the wind sailing. I would not go to sea without it."
Forespar Product News: Swim Step Davit System For Inflatable Dinghies – NO STORAGE – NO TOWING.
Forespar's new QUIK Davit Kit offers a compact and easy-to-install or connect inflatable (soft or hard bottom) dinghy storage options for most power and sailboat swim platforms or transoms…securely and tightly against the swim step.
Learn More: http://www.forespar.com/quikdavit-kit-inflatable-dinghies.shtml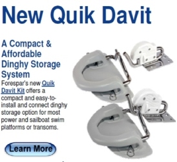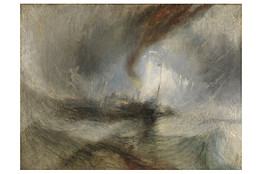 English Painter J.M.W. Turner's (1775-1851) painting "Set Free" is currently on display at the Getty Museum. Depicting a raging sea and a ship caught in a deep trough between two surging hills of waves that surround the endangered boat, this famous scene reminds us that the ocean has drawn us in for centuries; some of our sea journeys are more remarkable than others.
Pat D.
Avoid sensitive areas and operating your watercraft in shallow waters or near shorelines at high speeds.
Always launch at a designated boat ramp. Backing a vehicle on a riverbank or lakeshore can damage the area and leads to erosion.
Always travel slowly in shallow waters and avoid boating in water less than 2½ feet deep. High speeds near shorelines lead to large wakes which cause shoreline erosion.
Sensitive areas to avoid include seasonal nesting or breeding areas.
Do not disturb historical, archeological or paleontological sites.
Avoid "spooking" wildlife you encounter and keep your distance.
Motorized and mechanized vehicles are not allowed in designated Wilderness Areas.
Hints Source: Treat-Lightly.org.
~ Forespar Point of View Team
Educate yourself prior to a trip by learning rules and regulations, planning for your trip, taking recreation skills classes and knowing how to operate your equipment safely.
Obtain charts of your destination and determine which areas are open to your type of boat.
Make a realistic plan and stick to it.
Always tell someone of your travel plans and file a float plan.
Contact the land manager for area restrictions, closures and permit requirements.
Check the weather forecast for your destination. Plan clothing, equipment and supplies accordingly.
Make sure you have enough fuel and oil for the entire trip.
Make sure your owner's manual and registration are on board in waterproof containers.
Always carry a Coast Guard approved working fire extinguisher and warning flares.
Prepare for the unexpected by packing necessary emergency items.
Carry a Global Positioning System (GPS) and know how to use it.
Know distress signals and warning symbols. Know your limitations. Apply sunscreen, drink lots of water and watch your energy level.
Take a boater education course to learn more about navigating waterways and safe and enjoyable boating.
Make sure your boat is mechanically up to the task. Be prepared with tools, supplies and a spill kit.
Hints Source: Treat-Lightly.org.
~ Forespar Point of View Team
A new NOAA raster chart in digital format, called Fugawi Aboard, combines more than 2,000 NOAA charts and 600 Canadian raster charts into quilted regions for use on compatible chart plotters.
The result is coastline detail for the US and Canada with the look and feel of vector charts as well as the detail of paper charts – but that behaves like any other electronic charts with the ability for users to zoom and pan.
This digital cartography brings electronic paper charts to chart plotters everywhere. A downloadable version is available at: http://www.nauticalcharts.noaa.gov/mcd/raster/.
~ Forespar Point of View Team
Now there are several digital options to keep track of and remind you or your crew of all your yacht-system service needs. This can include a ship's log, maintenance history, and inventory of all parts and consumables normally kept on board.
Once all the information is gathered by its technicians, one of several vendors can create a customized program that is specific to your boat, not necessarily generic to the boat brand or model. It also has a less-expensive "customer implementation" option, in which the boat owner gathers and provides all the necessary information required. Once the implementation process is complete, all of your boat's information and records are stored in the cloud and accessible via computer, tablet or ­smartphone.
Three of the top names in the rapidly evolving product category of yacht-maintenance management are My-Villages, Wheelhouse Technologies and VesselVanguard.  Hosted online, these subscription-based systems host data securely on a remote server.
These low costs systems allow you to avoid ­­spending your time flipping through manuals and to get maintenance needs off your mind. Boaters have more important things to think about, like planning that next voyage.
~ Forespar Point of View Team